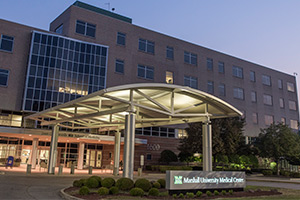 Marshall University Medical Center
1600 Medical Center DriveHuntington, WV 25701
Phone: 304.691.1600
Connected to Cabell Huntington Hospital and the Edwards Comprehensive Cancer Center, the Marshall University Medical Center offers patients a comprehensive, state-of-the-art medical practice setting where they can conveniently access both primary and specialty outpatient services for six clinical departments.
---
Hours
Monday-Friday
8 a.m. to 5 p.m.

Hours vary by department. 
Services
Amenities
Lab/x-ray
Walk-in services

Family Medicine (Monday-Friday, 8 a.m. to 4 p.m.; Saturday, 10 a.m. to 2 p.m.)
Orthopaedics (Monday-Thursday, 9 a.m. to 11 a.m., 1 to 3 p.m.; Friday, 9 to 11 a.m.)

Wheelchairs 
Parking
Parking garage
Parking lot
Covered canopy for patient drop-off/pick-up
Complimentary valet services. Pull your car up to the main entrance under the canopy. A parking attendant will give you a receipt, take your keys and park your car for you. When you are ready to leave, simply give the attendant your receipt, and the car will be driven up to the entrance for you.
Shuttle service. Call boxes are available for complimentary shuttle pick-up. To request courtesy shuttle pickup, call 304-544-RIDE.