If surgery is the best treatment option for your newborn, infant, child or teen, you can find a top-quality pediatric surgery team close to home at Marshall Health. In collaboration with Hoops Family Children's Hospital at Cabell Huntington Hospital, our board-certified, fellowship trained pediatric surgeons are skilled in providing the most advanced, least invasive surgeries and procedures.  
We understand how difficult a child's surgery can be on the entire family. We'll help your family prepare for the operation and work with the hospital staff as well as your pediatrician to ensure excellent follow-up care.   
General Pediatric & Trauma Surgery
When possible, our pediatric surgeons use minimally-invasive or laparoscopic techniques that involve smaller incisions in order to allow your child to return home sooner and minimize discomfort and scarring.
Some of the most common general pediatric surgeries performed include:
Appendectomy (appendix removal)
Cholecystectomy (gallbladder removal)
Colorectal and urologic conditions
Congenital anomalies
Craniosynostosis primary or revision surgery
Hernia repair
Traumatic injuries
Clinical Interests:
Locations:
---
Clinical Interests:
Locations:
---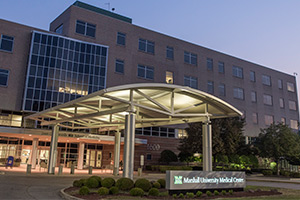 Marshall Surgery - Huntington
A provider-based department of Cabell Huntington Hospital
Marshall University Medical Center
1600 Medical Center Drive
Suite 2500 (2nd Floor)
Huntington, WV 25701
Phone: 304.691.1200