If your child sustains an injury during exercise, sports participation or any type of physical activity, you may be advised to see a sports medicine health care provider for treatment.
About sports medicine specialists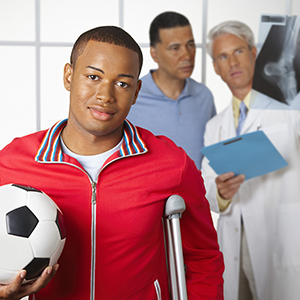 Sports medicine health care providers have special training to restore function to injured patients so they can get moving again as soon as possible. They are also knowledgeable about preventing illness and injury in active people. Although our sports medicine team provides care to local high school and college athletes, they also treat children and teens involved in sports and adults who exercise for personal fitness. In addition, they treat people who have physically demanding jobs, like construction workers.
Other health care professionals who our part of our sports medicine care team include:
Physical therapists help people rehabilitate and recover from injuries.
Certified athletic trainers provide rehabilitative exercise routines to help patients regain strength and develop conditioning programs to prevent future injury.
Dietitians may assist with weight loss or weight gain and can provide dietary advice to help people improve their physical functioning.
---
Reasons to see a sports medicine specialist
Here are examples of injuries treated by sports medicine health care providers:
Ankle sprains
Fractures
Knee and shoulder injuries
Tendonitis
Exercise-induced asthma
Heat illness
Concussions
Cartilage injuries
---
---
---
---
---
---
---
---
---
---
---
---
---
Clinical Interests:
Locations:
---
Clinical Interests:
Locations:
---
Clinical Interests:
Locations:
---
Related Pages
---
THE REGION'S GAME CHANGER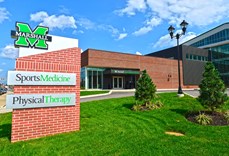 The Marshall Sports Medicine Institute is a premier sports medicine facility with the region's only academic sports medicine team.