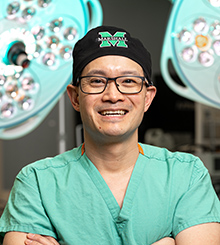 Felix H. Cheung, MD
Associate Professor
Vice Chair, Operations and Finance; Section Chief, Orthopaedic Oncology
Departments
Clinical Interests
Hospital Privileges
Biography
Dr. Cheung has been practicing at Marshall Orthopaedics since 2008. He specializes in orthopaedic oncology, surgical treatment of bone and soft tissue tumors, and joint replacement surgery, including the MAKOplasty robotically assisted partial knee replacement.
Education & Training
Medical School: University of Virginia School of Medicine (Charlottesville, Va.)
Residency: West Virginia University - Orthopaedic Surgery (Morgantown, W.Va.)
Fellowship: Massachusetts General Hospital/Beth Israel Deaconess Medical Center, Harvard Medical School - Orthopaedic Oncology (Boston, Mass.)
Honors & Memberships
America's Top Doctor since 2016

, Castle Connolly

Fellow

, American Academy of Othopaedic Surgeons

Member

, Musculoskeletal Tumor Society

President

, West Virginia Orthopaedic Society
Certification
Certified: American Board of Orthopaedic Surgery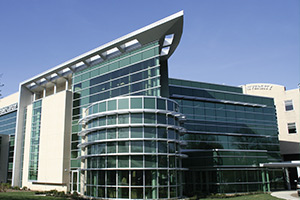 Edwards Comprehensive Cancer Center
1400 Hal Greer Blvd.
Huntington, WV 25701
Phone: 304-399-6500

---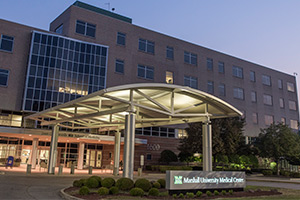 Marshall Orthopaedics
An outpatient department of Cabell Huntington Hospital
Marshall University Medical Center
1600 Medical Center Drive
Ground Floor
Huntington, WV 25701
Phone: 304-691-1262
Toll-Free Phone: 877-691-1600

---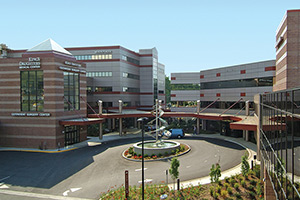 Marshall Orthopaedics - Ashland
King's Daughters Medical Center
Medical Plaza B
613 23rd Street, Suite G30
Ashland, KY 41101
Phone: 606-327-0036

---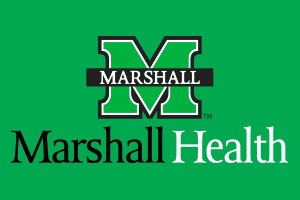 Marshall Orthopaedics - Charleston
Campus of CAMC General Hospital
415 Morris Street, Suite 104
Charleston, WV 25301
Phone: 304-343-4691 / 304-345-7824

---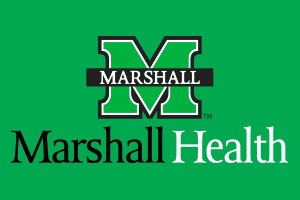 Marshall Orthopaedics - Gallipolis
Holzer Medical Center
100 Jackson Pike
Gallipolis, OH 45631
Phone: 855-446-5937

---
Bullock M, Kelley K, Caughran, A, Cheung F, Wallace W, Oliashirazi A. 2021. "An Overview of Knee Replacement" - Marshall Orthopaedics Patient Handout April 2021
HEALTH Investigators , Bhandari M, Einhorn TA, Guyatt G, Schemitsch EH, Zura RD, Sprague S, Frihagen F, Guerra-Farfán E, Kleinlugtenbelt YV, Poolman RW, Rangan A, Bzovsky S, Heels-Ansdell D, Thabane L, Walter SD, Devereaux PJ. 2019. Total Hip Arthroplasty or Hemiarthroplasty for Hip Fracture. N. Engl. J. Med. 2019 9 27;381(23):2199-2208.
View on PubMed
Burgers PT, Hoogendoorn M, Van Woensel EA, Poolman RW, Bhandari M, Patka P, Van Lieshout EM, HEALTH Trial Investigators. 2018. Total medical costs of treating femoral neck fracture patients with hemi- or total hip arthroplasty: a cost analysis of a multicenter prospective study. Osteoporos Int. 2018 3 20;27(6):1999-2008.
View on PubMed
Milad Modaressi MD, Ammar Qureshi MD, Rodrigo Aguilar MD, Meghan Anderson BS, Felix Cheung MD. 2018. Optimizing quality of care by patient satisfaction for the department of Orthopaedics a survey study (2018) "Optimizing quality of care by patient satisfaction for the department of Orthopaedics - A survey study," Marshall Journal of Medicine: Vol. 4: Iss. 4, Article 9.
May JS, Cheung F, Bou Zgheib N. 2017. A lytic bone lesion in endometrial carcinoma: a case report 2017 Dec; 63(2):175-178
Liu, J., Konz, S., Cheung, F.H., Szwilski, T.B., and Chapman, J.. 2015. Concurrent Validity of the Biostage for Assessment of Lower Extremity Joint Angles Human Factors and Ergonomics Society (HFES) 2015 International Annual Meeting, Chicago, Los Angeles, CA, October 2015
Nazarian A, Entezari V, Zurakowski D, Calderon N, Hipp JA, Villa-Camacho JC, Lin PP, Cheung FH, Aboulafia AJ, Turcotte R, Anderson ME, Gebhardt MC, Cheng EY, Terek RM, Yaszemski M, Damron TA, Snyder BD. 2015. Treatment Planning and Fracture Prediction in Patients with Skeletal Metastasis with CT-Based Rigidity Analysis. Clin. Cancer Res. 2015 Feb 27.
View on PubMed
Bhandari M, Devereaux PJ, Einhorn TA, Thabane L, Schemitsch EH, Koval KJ, Frihagen F, Poolman RW, Tetsworth K, Guerra-Farfán E, Madden K, Sprague S, Guyatt G, HEALTH Investigators. 2015. Hip fracture evaluation with alternatives of total hip arthroplasty versus hemiarthroplasty (HEALTH): protocol for a multicentre randomised trial. BMJ Open. 2015 9 24;5(2):e006263.
View on PubMed
Timothy A. Damron, M.D.4; Ara Nazarian, Ph.D.1; Vahid Entezari, M.D.1; Carlos Brown, M.D.4, William Grant, Ed.D.13, John A. Hipp, Ph.D.2; Nathan Calderon, M.Sc.2; David Zurakowski Ph.D.3, Richard M. Terek, M.D.5; Megan E. Anderson, M.D.6; Edward Y. Cheng, M.D.7; Felix Cheung, M.D.8; Albert J. Aboulafia, M.D.9; Robert Turcotte, M.D.10; Patrick P. Lin M.D.11, Mark C. Gebhardt, M.D.6; Brian D. Snyder, M.D., Ph.D.1,12. 2015. CT-Based Structural Rigidity Analysis Is More Accurate than Mirels Scoring System for Fracture Prediction in Metastatic Femoral Lesions
Burgers PT, Poolman RW, Van Bakel TM, Tuinebreijer WE, Zielinski SM, Bhandari M, Patka P, Van Lieshout EM, HEALTH and FAITH Trial Investigators. 2015. Reliability, validity, and responsiveness of the Western Ontario and McMaster Universities Osteoarthritis Index for elderly patients with a femoral neck fracture. J Bone Joint Surg Am. 2015 May 6;97(9):751-7.
View on PubMed
Cheung FH. 2014. The practicing orthopedic surgeon's guide to managing long bone metastases. Orthop. Clin. North Am. 2014 Jan;45(1):109-19.
View on PubMed
Sanford Z, Israelsen S, Sehgal R, Cheung FH. 2013. Atypical growth on MRI in a case of Ewing's sarcoma despite lower SUV on PET. Skeletal Radiol. 2013 Dec 19.
View on PubMed
Garabekyan T, Cheung F.. 2012. Destructive bone lesion in a eucalcemic patient with primary hyperparathyroidism Destructive Bone Lesion in a Eucalcemic Patient with Primary Hyperparathyroidism. OrthopaedicsOne Cases. In: OrthopaedicsOne - The Orthopaedic Knowledge Network. Created Aug 28, 2011 08:43. Last modified Jul 18, 2012 13:10 ver.8. Retrieved 2013-02-03, fro
View on PubMed
Hosseinzadeh, P, Cheung, F. 2009. Epithelioid Sarcoma http://sarcomahelp.org/epithelioid-sarcoma.html
J. Stuart May1, Corey Hamilton2, Ali Raufi3, Nadim Bou Zgheib4, Yehuda Lebowicz3, Doreen Griswold5, Linda Brown5, Felix Cheung6. . A case of chondrosarcoma with metastasis to the ovary