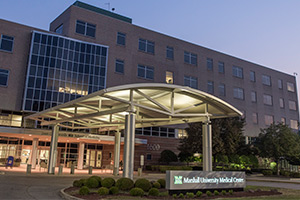 Marshall Orthopaedics - Huntington
An outpatient department of Cabell Huntington Hospital
Marshall University Medical Center
1600 Medical Center Drive, Suite G500 (Ground Floor)
Huntington, WV 25701
Phone: 304-691-1262
Toll-Free Phone: 877-691-1600
Fax: 304-691-1666
---
Hours
Monday-Friday
8 a.m. to 4:30 p.m.
---
Walk-In Clinic Hours
Monday-Thursday
9 to 11 a.m. and 1 to 3 p.m.
Friday
9 to 11 a.m.
Services
General orthopaedics
Foot and ankle care
Hand and upper extremity
Hip replacement
Joint replacement
Knee replacement
Minimally-invasive surgery
Orthopaedic oncology
Orthopaedic trauma
Pediatric orthopaedics
Podiatry
Amenities
Lab/x-ray
Orthopaedic walk-in services (Monday-Thursday, 9 to 11 a.m., 1 to 3 p.m.; Friday, 9 to 11 a.m.)
Pharmacy
Wheelchairs
Parking
Parking garage
Parking lot
Covered canopy for patient drop-off/pick-up
Shuttle service. Call boxes are available for complimentary shuttle pick-up. To request courtesy shuttle pickup, call 304-544-RIDE.