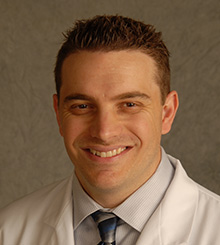 Zach J. Tankersley, DPM
Associate Professor
Departments
Clinical Interests
Privileges
Biography
In addition to his roles at Marshall Health and Marshall University Joan C. Edwards School of Medicine, Dr. Tankersley is the team podiatrist for the Marshall University Thundering Herd and an adjunct professor in the Division of Exercise Science, Sport, and Recreation at Marshall University. He specializes in reconstructive and revision surgery of the foot and ankle, and podiatric limb preservation.
Education & Training
Medical School: Des Moines University, College of Podiatric Medicine and Surgery (Des Moines, Iowa)
Residency: Western Pennsylvania Hospital, Temple University School of Medicine - Foot, Ankle and Lower Leg Surgery (Pittsburgh, Pa.)
Fellowship: Rubin Institute for Advanced Orthopaedics, Sinai Hospital - Limb Deformity Lengthening (Baltimore, Md.)
Honors & Memberships
Fellow

, American College of Foot and Ankle Surgeons

Member

, American Podiatric Medical Association
Certification
Certified: American Board of Foot and Ankle Surgery in Foot and Rearfoot/Ankle Reconstructive Surgery
Special Training: Circular External Fixation and the Ilizarov Method, The Instituto Clinico Humanitas
Special Training: Circular External Fixation and the Ilizarov Method, The Russian Ilizarov Scientific Centre for Restorative Traumatology and Orthopaedics
Special Training: Ponseti Method of Clubfoot Correction, Ignacio Ponseti, MD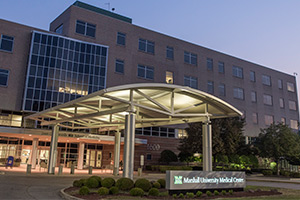 Marshall Orthopaedics - Huntington
An outpatient department of Cabell Huntington Hospital
Marshall University Medical Center
1600 Medical Center Drive
Suite G500 (Ground Floor)
Huntington, WV 25701
Phone: 304-691-1262
Toll-Free Phone: 877-691-1600

---
Thomas JL, Tankersley ZJ. 2019. General Trauma Assessment
Shuler FD, Woods D, Tankersley Z, McDaniel C, Hamm J, Jones J, Denvir J, Czarkowski B. 2016. An Anatomical Study on the Safe Placement of Orthopedic Hardware for Syndesmosis Fixation. Orthopedics. 2016 12 28;40(2):e329-e333.
View on PubMed
Melvin TJ, Tankersley ZJ, Qazi ZN, Jasko JJ, Odono R, Shuler FD. 2015. Primary Care Management of Plantar Fasciitis. W V Med J. 2015 12 30;111(6):28-32.
View on PubMed
Thomas JL, Tankersley ZJ. . Midfoot Fractures
Bengtson HC, Pierce WA, Tankersley ZJ, Cherkashin A, Birch J, Samchukov M. . Circular External Fixation: The Effect of Sequential Tensioning of The Second Wire On the Initial Tension of the Primary Wire
Garabekyan T, Tankersley ZJ. . Early Subtalar Joint Arthrodesis for Bilateral Recurrent Dislocations.
Dayton P, TankersleyZJ. . Pilon Fractures
Dayton P, Tankersley ZJ, Caban G. . Calcaneal Fractures
Tankersley ZJ, Catanzariti AR, Mendicino RW, Grossman JP. . A Guide to Treating Crush Injuries. Podiatry Today, Volume 17 - Issue 3 - March 2004