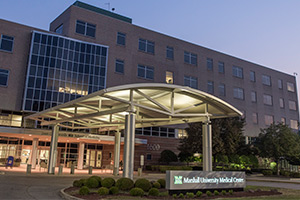 CHH Center for Wound Healing
Marshall University Medical Center
1600 Medical Center Drive, Suite 2500Huntington, WV 25701
Phone: 304-399-3510
For more information, visit cabellhuntington.org/services/center-for-wound-healing.
Cabell Huntington Hospital's Center for Wound Healing, in collaboration with Marshall Orthopaedics and Marshall Surgery, applies proven wound care practices and advanced clinical approaches, including Hyperbaric Oxygen Therapy, to help heal patients who suffer from such chronic wounds. In addition, the center participates in a number of clinical trials utilizing the latest wound care products, dressings and antibiotics.
Parking
Parking garage
Parking lot
Covered canopy for patient drop-off/pick-up
Shuttle service. Call boxes are available for complimentary shuttle pick-up. To request courtesy shuttle pickup, call 304-544-RIDE.
---
---
---
---
---
Clinical Interests:
Locations:
---
Clinical Interests:
Locations:
---
Clinical Interests:
Locations:
---