Marshall Family Medicine has been providing extensive, comprehensive, preventive health care services to tristate businesses for more than 30 years. Our board-certified physicians and specially trained staff provide a full range of occupational, disability and environmental medicine services for acute workplace injuries and chronic complications of job-related injuries.
Our team works closely with employers, employees, physicians, physical therapists and other organizations to provide training programs aimed at minimizing risk and preventing costly accidents and injuries to workers. Our evaluations are designed to reduce workers' compensation and overall health care costs as well as assist in identifying pre-existing conditions that many affect a worker's ability to safely perform job duties.
We offer a wide range of occupational, disability and environmental medicine services that can be tailored to meet the specific needs of your business, including:
Asbestos examinations
Chest x-rays with b-readings
DOT evaluations
Disability examinations
Drug and alcohol screenings and breath alcohol testing
Ergonomic evaluations
Hearing conservation programs
Immunizations
Lead evaluations
Occupational Safety and Health Administration (OSHA) mandated examinations
Pulmonary function testing
Respiratory clearance
Toxic exposure evaluations
Vision screenings
Medical Exams
Marshall Family Medicine provides pre-employment physicals, independent medical exams, immigration exams, medical surveillance exams, return-to-work evaluations and more to businesses and their employees.
Mobile Medicine
We offer a number of onsite tests and evaluation services via our Robert C. Byrd Mobile Medical Unit. This convenience eliminates the need for employees to travel away from the worksite for medical services and reduces time away from the job.
Training & Support Services
We offer the following consultation services for businesses, government agencies and other organizations:
Consult on toxic exposure determination
Assist in corporate decision-making involving safety, industrial hygiene, ergonomics and workers' compensation.
Provide guidance on monitoring and sampling techniques.
Provide guidance on controlling medical, occupational and environmental health hazards.
Advise on compliance with applicable OSHA, Environmental Protection Agency (EPA) and Mine Safety and Health Administration (MSHA) guidelines.
Offer health screenings for early detection as well as employee wellness and assistance programs.
Wellness & Sick Visits
In addition to the services we provide directly to businesses, your employees and their families can take advantage of Marshall Family Medicine's convenient primary care services [link to primary care page] in five locations throughout the region for wellness visits, immunizations, sick visits and more. Our walk-in clinic [link to family medicine walk-in page] is open six days a week for sick visits.
Clinical Interests:
Locations:
---
Clinical Interests:
Locations:
---
Clinical Interests:
Locations:
---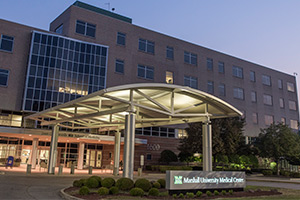 Marshall Occupational, Environmental, and Disability Medicine
An outpatient department of Cabell Huntington Hospital
Marshall University Medical Center
1600 Medical Center Drive
Suite 1500
Huntington, WV 25701
Phone: 304-691-1100