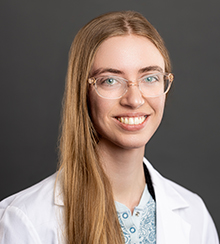 Micaela R. Owens, DO
Assistant Professor
Departments
Clinical Interests
Headaches & Migraines
Movement Disorders
Neuromuscular Medicine
Privileges
Education & Training
Medical School: Lake Erie College of Osteopathic Medicine (Erie, Pa.)
Residency: Geisinger Medical Center (Danville, Pa.)
Fellowship: Milton S. Hershey Medical Center, Penn State Health (Hershey, Pa.)
Honors & Memberships
Member

, American Academy of Neurology

Member

, American Association of Neuromuscular and Electrodiagnostic Medicine
Certification
Certified: American Board of Psychiatry and Neurology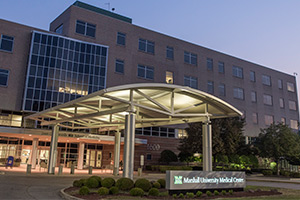 Marshall Neuroscience - Huntington
A provider-based department of Cabell Huntington Hospital
Marshall University Medical Center
1600 Medical Center Drive
Suite B500
Huntington, WV 25701
Phone: 304.691.1787

---
Owens MR, Sather M, Fisher TL. 2023. Clinical outcomes following responsive neurostimulation implantation: a single center experience 2023 Sep 22;14:1240380.
Owens MR, Kaur D. 2023. The neuromuscular evaluation of postural orthostatic tachycardia syndrome. Muscle Nerve. 2023 Aug 28.epub ahead of pring
View on PubMed
Sonier C, Owens M, Khurana S, Thakur L. 2022. Fatal Coma Secondary to Acute Onset of Hyperammonemia in a Non-Cirrhotic Adult Male Secondary to a Urea Cycle Enzyme Deficiency—a Rare Disease Case Report 2022 Apr 4;74(1):e35585.
Owens M, Gatson NT, Mongelluzzo G, Goren O, Newman E, Sandulescu MC. 2021. Secondary Normal-Pressure Hydrocephalus in Rheumatoid Meningitis. Case Rep Neurol. 2021 7 31;13(2):434-440.
View on PubMed
Owens M, Choe L, Rivera JE, Avila JD. 2020. West Nile virus neuroinvasive disease associated with rituximab therapy. J Neurovirol. 2020 5 31;26(4):611-614.
View on PubMed