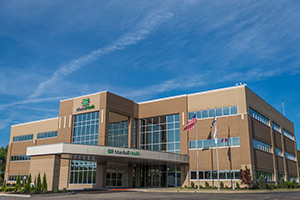 Marshall Health - Teays Valley
300 Corporate Center DriveScott Depot, WV 25560
Phone: 304-691-6800
Marshall Health – Teays Valley is a multispecialty facility that offers comprehensive care close to home. Located just off Interstate 64 in the heart of Teays Valley, this modern health care facility hosts three floors of primary and specialty care. Combined with onsite lab and imaging services, Marshall Health –Teays Valley conveniently serves the residents of Putnam and its surrounding counties all under one roof.
In addition, the Marshall Health Café, located on the building's first floor, offers breakfast on-the-go staples like yogurt and pastries, hot & cold lunch sandwiches, salads, soups, snacks, coffee and more. The café is open to employees, patients and community members. Hours are 8 a.m. to 2 p.m., Monday-Friday. 
---
Hours
Monday-Friday
8 a.m. to 4 p.m.
Hours may vary by department.
Services
Amenities
4D ultrasounds
Cabell Huntington Hospital Sleep Lab
Marshall Health Café
Weekday walk-in care (internal medicine, orthopaedics)
Wheelchairs
Parking
Parking lot
Covered canopy for patient drop-off/pick-up