Endocrine care designed to meet your child's needs.
With hormone fluctuations and growth and regulatory issues, endocrine disorders can impact every part of your child's or teenager's life – physically, emotionally and socially – making it hard to choose the best care plan.
At Marshall Health, our board-certified pediatric endocrinologist, physician assistant, certified diabetes educator, registered dietician and nurses will work with you and your child to ensure they receive the care and resources needed to thrive.
Make an Appointment
To schedule an appointment with one of our experienced providers, call 304-691-8901.
No referral is necessary. 
---
Conditions
Pediatric endocrinologists diagnose, treat and manage children who are experiencing problems with growth, puberty, diabetes or other disorders related to the hormones and the glands that produce them.
Hormones are chemicals that affect how other parts of the body work. For example, hormones decide how a child grows and matures. Endocrine glands, such as the pituitary gland, release hormones into the bloodstream. Endocrinology is the science that studies these glands and the effects of the hormones.
Problems seen by pediatric endocrinologists can be quite different from those commonly seen by endocrinologists who care for adults. We offer the latest in diagnostic and treatments for the full range of endocrine and metabolic disorders including:
Adrenal gland disorders
Bone and mineral disorders, such as

rickets or low calcium

Childhood obesity
Diabetes
Early or delayed puberty
Enlarged thyroid gland (goiter)
Growth problems, such as short stature
High cholesterol levels
Low blood sugar (hypoglycemia)
Pituitary gland disorders
Thyroid disorders
Turner syndrome and Klinefelter syndrome 
---
Treatments and Services
We deliver a comprehensive approach to clinical care, providing children, teenagers and their families with the tools necessary to deal with endocrine disorders at home or school. We also offer education, support and resources, such as:
Diabetes care:

Specialized care for children and adolescents with type 1 and type 2 diabetes
In-office training and placement of continuous glucose monitors
In-office insulin pump training and insulin pump initiation for children starting pump therapy
Pediatric diabetes education and self-management training
Nutritional counseling for obesity and diabetes in children
Growth hormone replacement therapy
Hormonal replacement therapy
Treatment of early
Treatment of low bone mineral density with IV therapy
Clinical Interests:
Diabetes Technologies
Early and Delayed Puberty
Endocrinology - Pediatric
Locations:
---
Clinical Interests:
Endocrinology - Pediatric
Locations:
---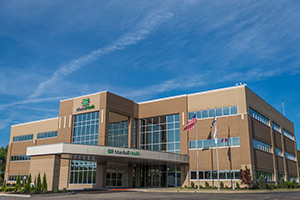 Marshall Pediatric Specialties - Teays Valley
300 Corporate Center Drive
1st Floor
Scott Depot, WV 25560
Phone: 304-691-8901