The preteen and teenage years can be an exciting yet difficult time of life. Our adolescent medicine experts focus on the care of patients ages 11 to 21, including dermatology, endocrinology, gynecology, infectious diseases, mental health, nutrition, primary care and sports medicine.
Teens generally enter puberty between the ages of 9 to 11 for girls and 11 to 14  for boys. Before, during and after this process adolescents face special health risks and problems that our adolescent medicine physicians are experienced in addressing:
Immunizations
Delayed puberty
Obesity
Menstrual disorders, including amenorrhea, dysmenorrheal, dysfunctional uterine bleeding and menorrhagia
Sexuality issues, including gender identity, sexually transmitted infections, contraception, pregnancy and HIV
Substance use
Mental health, including bullying, stress headaches, sleep problems, dating violence, defiant behavior, anger management, depression, anxiety, suicidal thoughts and homelessness
YOUR TEEN/PARENT RESOURCE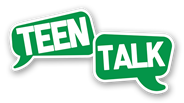 Teen Talk provides accurate health information to teens about their bodies and relationships so that they can make healthy, wise choices.