Radiology Services
Radiology services include medical imaging procedures such as X-rays, computed tomography (CT), magnetic resonance imaging (MRI), nuclear medicine, positron emission tomography (PET) and ultrasound. They are used to diagnose a wide array of conditions as well as for screening purposes such as with mammograms.
Depending on the nature of your visit, your provider may order procedures to be performed during your exam or you may need to schedule an appointment for a later time. Your care team will inform you of any special instructions you may need to follow in preparation for certain tests. 
X-rays and mammograms are available at Marshall Health - Teays Valley. 
Discount on services
For those who receive radiology services at Marshall Health-Teays Valley, a "cash price," or 20% discount, is offered to patients who pay their entire bill at time of service.
Questions?
Call 304-691-6729 for more information about our services.
View Results
Results are available through your physician's office or your myHealthFile patient portal account.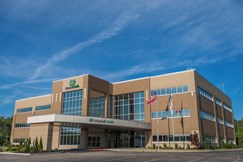 Marshall Health - Teays Valley
300 Corporate Center Drive
Scott Depot, WV 25560
Phone: 304-691-6729
Fax: 304-691-6784
Related Pages