Nephrology is a subspecialty of internal medicine that focuses on conditions related to the kidneys and kidney health. Our fellowship-trained nephrologists are dedicated to the prevention, treatment and management of kidney disease and a number of other conditions that impact kidney function, including:
These problems with the kidneys may be caused by:
Aging. As we age, changes in the structure of the kidneys can cause them to lose some of their ability to remove wastes from the blood. The muscles in the ureters, bladder and urethra also tend to lose some of their strength, but this alone does not cause chronic kidney diseases.

Illness or injury. Damage to the kidneys caused by illness, inflammation, immune responses, or an injury can also prevent them from filtering the blood completely or block the passage of urine. Diabetes and high blood pressure (hypertension) are two leading causes of kidney disease.

Toxicity. The kidneys may be damaged by substances, such as certain medicines, a buildup of some substances in the body or toxic substances such as poisons.
Kidney disease is diagnosed through blood and urine testing. If you are diagnosed with chronic kidney disease, your doctor may look to medications to help slow the disease progression, including medications that help lower your blood pressure, control your blood sugar levels and lower your cholesterol.
As chronic kidney disease worsens, it could result in kidney failure, in which case treatment options typically include dialysis and/or a kidney transplant. 
---
---
---
---
---
Clinical Interests:
Locations:
---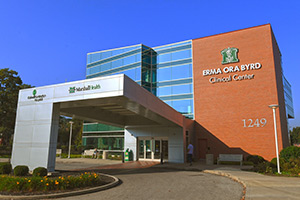 Marshall Internal Medicine
An outpatient department of Cabell Huntington Hospital
Erma Ora Byrd Center
1249 15th Street
2nd & 3rd Floor
Huntington, WV 25701
Phone: 304-691-1000

---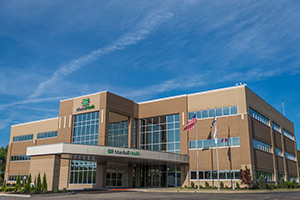 Marshall Internal Medicine - Teays Valley
300 Corporate Center Drive
2nd Floor
Scott Depot, WV 25560
Phone: 304-691-6910

---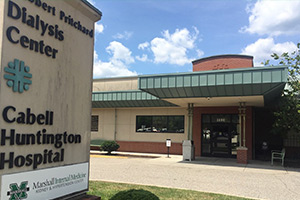 Marshall Kidney & Hypertension Center
An outpatient department of Cabell Huntington Hospital
J. Robert Pritchard Dialysis Center
1690 Medical Center Drive
Huntington, WV 25701
Phone: 304-526-2532