Colorectal cancer is the 2nd leading cause of cancer death in the U.S., and it's on the rise. A colonoscopy is one of several routine screening tests used to find precancerous polyps so they can be removed before they turn into cancer. Screening can also find colorectal cancer early, when treatment is most effective.  
It may also be performed in patients who have had previous polyps or who are experiencing changes in bowel habits, abdominal pain, unexplained weight loss or bleeding.
A colonoscopy is a procedure that allows your doctor to see the lining of the rectum and entire colon by gently inserting a soft flexible, long, narrow tube into the anus and advanced into the rectum and colon. A colonoscopy can show inflammation, ulcers, polyps, tumors and bleeding.
---
Don't Wait!
If you're 50 or older, call your doctor to schedule a screening.
Preparing for a colonoscopy
Your doctor will give you specific instructions to follow. It is very important that you follow the instructions. If the colon and rectum are not completely empty of stool, the procedure may have to be cancelled and rescheduled.
Tell your doctor in advance about any medications you are taking. Your doctor may need to adjust your usual dosage prior to the procedure.
You will be sedated for this procedure. Please make arrangements for someone to be at the hospital with you and to drive you home.
---
What to expect during the procedure
A colonoscopy is usually well-tolerated; however, you might experience some pressure, bloating or cramping at various times during the procedure. You will be placed on your side while the colonoscope is guided through your rectum to your large intestine to examine the lining. In order to examine the lining of the colon thoroughly, your doctor will slowly insert and withdraw the instrument. The procedure typically takes 30 to 45 minutes.
---
After a colonoscopy
Your doctor will explain the results to you after the procedure. You may experience some mild cramping or bloating due to the air that was placed in the colon during your procedure. This should disappear when you pass gas. 
You will be able to resume normal activities and eat a regular diet following the procedure, unless told otherwise by your doctor.
Do not drive or operate machinery for 24 hours after your procedure due to the sedatives you were given.
Although complications after a colonoscopy are rare, it is important to notify your doctor if you experience severe abdominal pain, fever, chills or rectal bleeding of more than one-half cup. Bleeding can occur up to several days after the procedure.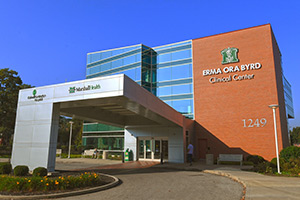 Marshall Internal Medicine
An outpatient department of Cabell Huntington Hospital
Erma Ora Byrd Center
1249 15th Street
2nd & 3rd Floor
Huntington, WV 25701
Phone: 304-691-1000

---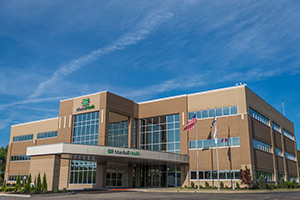 Marshall Internal Medicine - Teays Valley
300 Corporate Center Drive
2nd Floor
Scott Depot, WV 25560
Phone: 304-691-6910