When your baby needs special care, the neonatologists from Marshall Health are here for them around the clock. In the Neonatal Intensive Care Unit (NICU) at Hoops Family Children's Hospital at Cabell Huntington Hospital, our physicians bring expertise from multiple specialties to care for premature and seriously ill newborns.
This dedicated, specialized care team also includes nurses, pharmacists, physician assistants, respiratory therapists and other medical staff from Hoops Family Children's Hospital who will care for your baby in the NICU. We support a family-centered environment that promotes flexible visiting hours, skin-to-skin bonding and empowers families to participate in their baby's care.
Our neonatologists also work closely with our maternal-fetal medicine specialists to coordinate care of babies during and after high-risk pregnancies.
Neonatal Intensive Care Unit
Our team has been caring for Marshall Health's smallest patients at Cabell Huntington Hospital since the mid-1970s. Beyond well-baby care, this specialized unit within Hoops Family Children's Hospital includes advanced technologies to care for premature and critically-ill newborns.  
Specialized care for all babies born too small or too soon
Infants born with complex genetic conditions and birth defects
Total Body Cooling for babies with perinatal hypoxic-ischemic injury
Congenital infections including bacterial, viral and other etiologies
Pediatric general and urological surgery
Retinal surgery
Head and neck surgery
Specialized care for infants born in multiple pregnancy including twins, triplets and higher-order births.
High-risk infant follow-up services and care
Our neonatology team also provides consult services to St. Mary's Medical Center and Thomas Health System.
Neonatal Therapeutic Unit
Hoops Family Children's Hospital is home to one of the nation's first newborn units dedicated to caring for drug-exposed infants. In the Neonatal Therapeutic Unit (NTU), Marshall Health neonatologists and a dedicated care team from the children's hospital care for newborns experiencing Neonatal Abstinence Syndrome (NAS) as a result of drug exposure during pregnancy.
This special unit features a quiet, calm environment with reduced noise and dim lights in order to reduce over-stimulation. The care team monitors the babies closely for signs of withdrawal, feeding problems and weight gain.
NTU physicians and staff involve the mother, father and extended family in the baby's care. They also connect them to resources like Project Hope for Women & Children, Healthy Connections and the Maternal Opioid Medical Support (MOMS) program to encourage healthy habits that will continue beyond the hospital stay.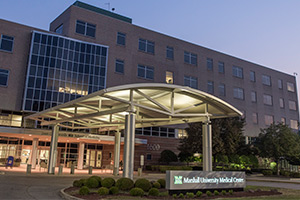 Marshall Pediatrics
1600 Medical Center Drive
3rd Floor
Huntington, WV 25701
Phone: 304-691-1300
Toll-Free Phone: 877-691-1600