TMS stands for transcranial magnetic stimulation. TMS is a non-medication form of treatment that involves electrical stimulation of a small area of the brain by using a focused magnetic field. It was first approved by the U.S. Food and Drug Administration (FDA) in 2008 for use in patients who have not received adequate improvement in their depression symptoms after multiple medication trials. The TMS machine uses electrical current that passes through the coils at the end of the stimulator wand. The current is rapidly switched on and off to create a succession of magnetic bursts that produce a stimulating effect over an area of the brain that is associated with depression. Typical courses require 5 sessions per week for a total of 6 weeks, with each session only lasting between 20-40 minutes.
TMS is safe, effective and most importantly non-invasive, meaning it does not require a patient to be in a hospital setting or require patients to have to undergo anesthesia. As such, it can be performed in our clinic, allowing patients the option to drive themselves to and from appointments. Patients interested in TMS may call Marshall Psychiatry with a self-referral or be referred by their current provider. During the initial evaluation in our clinic, the patient meets with one of our team members specializing in TMS to determine if the treatment is right for the patient.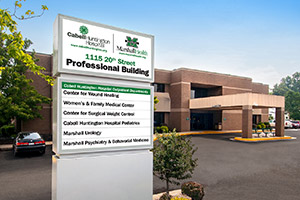 Marshall Psychiatry
A provider-based department of Cabell Huntington Hospital
20th Street Professional Building
1115 20th Street, Suite 205
Huntington, WV 25703
Phone: 304.691.1500

TMS FOR TREATMENT-RESISTANT DEPRESSION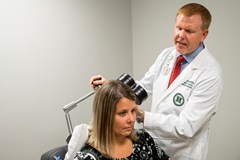 Marshall Psychiatry offers transcranial magnetic stimulation (TMS) as a non-invasive alternative for individuals with treatment-resistant depression. Call 304-691-1500 to schedule an evaluation.