Our Memory Disorder & Dementia Clinic is staffed by the board-certified geriatric psychiatrists at Marshall Psychiatry. The clinic specializes in evaluating and caring for those who experience behavioral and other changes. 
Many treatable causes of confusion, memory loss or other cognitive changes occur with age. Patients are provided with a thorough assessment, diagnosis and treatment options. Patients and families are also provided counseling, education and guidance.
Families are encouraged to be fully involved in the process as appropriate. In addition, the clinic provides ongoing treatment for the behaviors and symptoms that may be part of the dementia process such as insomnia, refusal of care, agitation or aggression, crying, psychosis and other difficult behaviors. Treatments are designed with quality of life in mind for patients and families.
Clinical Interests:
Locations:
---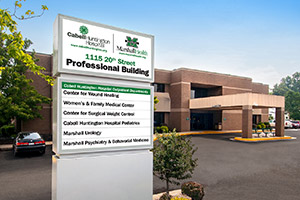 Marshall Psychiatry
A provider-based department of Cabell Huntington Hospital
20th Street Professional Building
1115 20th Street, Suite 205
Huntington, WV 25703
Phone: 304.691.1500