Sports physicals are required by a number of organizations, including camps, schools and community sports organizations, in order to ensure that students can safely participate in their activities. 
What to Expect
During a sports physical, the doctor will ask questions about your medical history, including illnesses, allergies or past injuries.
The doctor will also conduct a physical examination, checking height/weight, blood pressure, vision, etc. They may also ask questions about use of supplements, performance enhancers or use of drugs/alcohol.
Your doctor may also offer training advice, like stretching to avoid injuries.
---
Sports Physicals by Appointment
Sports physicals are available throughout the year at the Marshall Sports Medicine Institute and any Marshall Family Medicine or Marshall Pediatrics clinic location.
Please bring all necessary documentation to your appointment, including:
Camp, school or sports organization forms. The West Virginia Secondary School Activities Commission (WVSSAC) has a physical form that must be filled out and signed by a parent or legal guardian for those playing school-sponsored sports in West Virginia.
Proof of insurance, and
Immunization records (if the student does not see a Marshall Health provider for his or her primary care)
---
Call Now
Call one of the following Marshall Health clinics to schedule your next sports physical: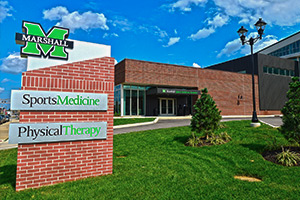 Marshall Sports Medicine Institute
2211 Third Avenue
Huntington, WV 25703
Phone: 304-691-1880

Partnerships with Schools
The Marshall Sports Medicine Institute (MSMI) partners with a number of high schools and middle schools in West Virginia, Ohio and Kentucky. As a result, free sports physical events are scheduled in late spring/early summer for students in these schools who are participating in school-sponsored sports.