A New Approach to ACL Reconstructive Surgery
A torn anterior cruciate ligament, or ACL, can leave an athlete on the sidelines for months. However, Dr. Chad Lavender of Marshall Orthopaedics has developed a new approach to ACL surgery that may shorten recovery time for patients and lessen pain.
Known as the "fertilized ACL," this technique uses a mixture of bone marrow concentrate, autograft bone and demineralized bone matrix to fill the tunnels within the knee joint during traditional ACL reconstruction. This technique also utilizes an innovative concept of internal brace reinforcement to improve stability of the healing ACL.  
Patients have reported the same results as the standard ACL reconstruction with shorter recovery times, significantly less pain and no known additional risks.
Clinical Interests:
Locations:
---
Clinical Interests:
Locations:
---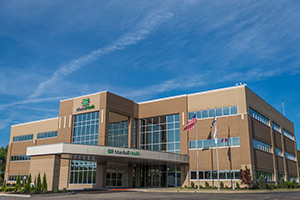 Marshall Orthopaedics - Teays Valley
300 Corporate Center Drive
1st Floor
Scott Depot, WV 25560
Phone: 304-691-6710

---
Why use the "Fertilized ACL" technique
Crystal Nye is a football player, mom of three, who tore her ACL during drills. She shares how Dr. Lavender's "fertilized ACL" reconstruction technique helped her get back on her feet faster.
Aaron Geething tore both of his ACLs playing soccer. He compares his recovery experience after traditional surgery and surgery using Dr. Lavender's "fertilized ACL" technique.