Convenient pharmacy services for our patients and community
Pharmacy services is an important part of caring for our patients. That is why Marshall Health is committed to offering the convenience of onsite retail pharmacies and helping you obtain your medications quickly and easily.
We offer personalized pharmacy services, private and individual consultation rooms and comprehensive care for our patients, employees and the community. In addition to prescription drugs, our pharmacies carry specialty medications, injectables, a limited supply of over-the-counter items and diabetic supplies.
Marshall Pharmacy also offers:
Easy online prescription transfers
Online and in-app prescription refills
Vaccinations (flu shots, pneumonia, shingles, TDap, etc.)
To have your prescriptions filled following your doctor visit, just let your nurse or physician know. They will have your prescriptions sent directly to your preferred Marshall Pharmacy location.
---
In addition to basic retail pharmacy services, Marshall Pharmacy offers a number of other convenient services so that you get medications you need when you need them.
Meds by Mail
Do you want the convenience of having your medications mailed directly to your home? Our Meds by Mail program offers mail service for new or refill prescriptions.
Med Sync
For patients who take several medications and wish to reduce their number of visits to the pharmacy, our team can work with you and your doctors to fill your medications on the same day each month. Many of our customers who use Med Sync pair it with our Meds by Mail service.
Meds to Beds
Marshall Pharmacy offers the convenience of having your prescriptions delivered to your bedside at discharge. Tell a pharmacy technician or your nurse that you would like Marshall Pharmacy to fill your discharge prescriptions.
Medication Review
Schedule an appointment with one of our pharmacists to learn more about the medications you are taking and how to best take them. These individualized, in-person sessions occur in private consult rooms located within our Marshall University Medical Center location.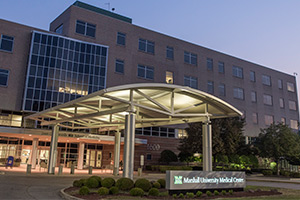 Marshall Pharmacy
Marshall University Medical Center
1600 Medical Center Drive
Ground Floor
Huntington, WV 25701
Phone: 304-691-6879 (MURx)

---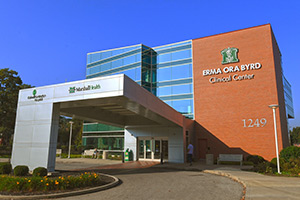 Marshall Pharmacy - Byrd Clinical Center
Erma Ora Byrd Clinical Center
1249 15th Street
2nd Floor
Huntington, WV 25701
Phone: 304-696-5000

---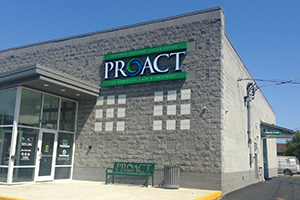 Marshall Pharmacy - PROACT
800 20th Street
Huntington, WV 25701
Phone: 304-696-8705