Bariatric, or weight loss surgery, can be emotional experience as you prepare for surgery and adjust to many lifestyle changes throughout the process. That is why we provide comprehensive psychological care to all bariatric patients throughout their journey. 
---
Pre-Surgical Evaluation
Patients are typically scheduled for a psychological evaluation within two weeks of referral by their bariatric physician. In addition to identifying psychological contradictions for bariatric surgery, your focused interview and psychosocial evaluation with one of our trained psychologists assesses your ability to comply with pre- and post-surgery treatment recommendations so that the benefits of the surgery can be fully realized. 
Evaluations include specific measures of eating behaviors, mood and quality of life.
Patient reports are provided to the referring physician within 7-10 business days following the patient's initial appointment. 
---
Post-Surgical Evaluation
If concerns are noted at pre-screening, patients are offered a post-surgical evaluation to identify issues that might interfere with post-surgical success. At the patient's request, reports are provided to his or her physician for the purpose of enhancing the patient's overall outcome. 
---
Individual & Group Therapy
Post-surgical bariatric patients face multiple challenges adjusting to the changes in lifestyle required for a successful outcome.
We work to identify patients who are potentially at risk for inadequate weight loss or post-surgical weight regain and establish a strategy, alongside their bariatric care team, to help the patient address those issues. Our Bariatric Care Clinic also offers treatment groups that emphasize skill development and reinforce positive behaviors. 
Clinical Interests:
Counseling
Psychology - Child & Adolescent
Locations:
---
Clinical Interests:
Health Psychology
Psychology - Adult
Locations:
---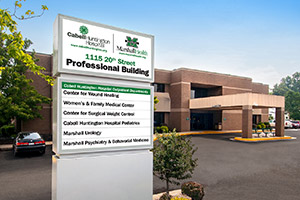 Marshall Psychiatry
An outpatient department of Cabell Huntington Hospital
20th Street Professional Building
1115 20th Street, Suite 205
Huntington, WV 25703
Phone: 304-691-1500

CONTACT US
Call Marshall Psychiatry at 304-691-1500 to schedule an appointment.