Neuropsychology Fellowship
Neuropsychology Fellowship
The Adult Clinical Neuropsychology Fellowship Program at Marshall Health and the Marshall University Joan C. Edwards School of Medicine is a two-year training program in the Department of Neurology that offers one full-time position. Based in Huntington, West Virginia, the program is a member of the Association of Postdoctoral Programs in Clinical Neuropsychology (APPCN) and is consistent with Houston Conference Guidelines on Specialty Education & Training in Clinical Neuropsychology. 
Marshall Health is closely affiliated with Cabell Huntington Hospital (CHH), a Level 2 Trauma Center, Comprehensive Multiple Sclerosis Care Center, and NAEC Level 3 epilepsy center. CHH serves as a 303-bed teaching hospital for Marshall University schools of medicine, pharmacy and nursing. Marshall University is composed of two primary campuses in Huntington:  the Health Sciences Campus, which includes Marshall University Medical Center and Cabell Huntington Hospital, and the Main Campus, which offers various degrees, including graduate programs in clinical psychology, physical therapy and speech-language pathology.
Fellows receive ample individual supervision (minimum of 2 hours weekly) via primary supervisors, Dr. Hudson and Dr. Ford, on an individual basis throughout their two-year fellowship. Elective rotations may be available with other faculty members based on interest and availability.
Clinical Interests:
Locations:
---
Clinical Interests:
Health Psychology
Psychology - Adult
Locations:
---
---
---
---
---
Neuropsychology services are housed within the Department of Neurology. We are physically located on Marshall University's Health Sciences Campus across the street from Marshall University Medical Center and Cabell Huntington Hospital. Our building affords a quiet environment to conduct testing and provide patient feedback. The fellow will have their own office equipped with a computer, which may also serve as a testing room. Free, ample parking is available right outside the building.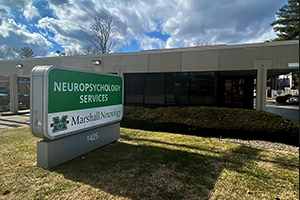 Neuropsychology at Marshall Neuroscience
1425 Hal Greer Boulevard
Huntington, WV 25701
Phone: 304-691-1606