Our child & adolescent psychiatrists and psychologists work together to evaluate and provide ongoing treatment for disorders along the autistic spectrum.
Comprehensive care for your child is available at Marshall Health through medication management, individual therapy, family therapy, psycho-educational testing and group therapy to enhance appropriate and social behaviors.
---
Autism spectrum disorder (ASD) often appears during the first three years of life and can affect a child's nervous system, growth and development. Each child may have a slightly different set of symptoms. Below are some of the most common symptoms of ASD.
Social symptoms
Has problems making eye contact with others
Has problems making friends or interacting with other children
Communication symptoms
Does not communicate well with others
Starts speaking at a later age than other children or doesn't speak at all
When the child is able to speak, doesn't use speech in social settings
Repeats words or phrases (echolalia) or repeats parts of dialogue from TV or movies
Behavior symptoms
Does repeated movements, such as rocking or flapping fingers or hands
May be too sensitive or less sensitive to certain things around him or her, such as lights, sounds, touch or taste
Has rituals
Needs routines
---
---
---
---
---
---
---
Clinical Interests:
Locations:
---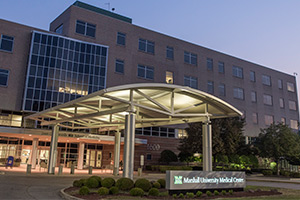 Marshall Pediatrics
1600 Medical Center Drive
3rd Floor
Huntington, WV 25701
Phone: 304-691-1300
Toll-Free Phone: 877-691-1600

---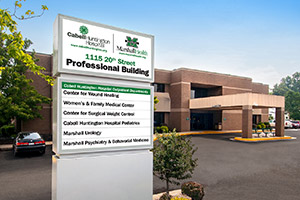 Marshall Psychiatry
An outpatient department of Cabell Huntington Hospital
20th Street Professional Building
1115 20th Street, Suite 205
Huntington, WV 25703
Phone: 304-691-1500