Heart failure is a condition that results in problems related to the relaxation or contraction of the heart. In essence, the heart is no longer able to perform its essential functions of pumping oxygen-rich blood to all parts of the body. 
Among the most common symptoms of heart failure are:
Shortness of breath
Decreased functional capacity
Leg swelling
Can't sleep flat
Wake up during night gasping for air
With the region's only heart failure specialist and the full resources of an academic health system, including a cardiology fellowship program, Marshall Health provides specialized outpatient care for heart failure works to prevent rehospitalization. Early referrals help extend life expectancy and quality of life for heart failure patients.
Heart failure care may also include:
Remote monitoring for devices such as pacemakers
Outpatient infusion of IV medications. This service includes outpatient management of mild or moderate exacerbation of acute heart failure with IV diuretics, labs and iron infusions as necessary. Treatment is available up to six (6) hours or three (3) visits per week. IV infusion can help reduce the need for inpatient admission and treat exacerbations in the early stages. 
Cardio-oncology. Heart failure is a side effect of chemotherapy. Our cardiologists and oncologists work collaboratively to help prevent heart failure among chemotherapy patients.
Marshall cardiologists also provide inpatient consulting services at Cabell Huntington Hospital and St. Mary's Medical Center for heart failure exacerbations, cardiac shock and mechanical support.
Clinical Interests:
Locations:
---
Clinical Interests:
Locations:
---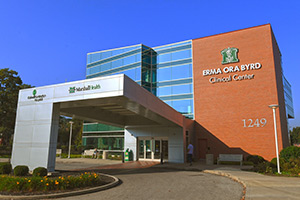 Marshall Cardiology
An outpatient department of Cabell Huntington Hospital
Erma Ora Byrd Center
1249 15th Street
4th Floor
Huntington, WV 25701
Phone: 304-691-8500

APPOINTMENTS
The Heart Failure Clinic only sees patients by physician referral from primary care providers, another specialist or consultation during hospitalization. For more information, call Marshall Cardiology at 304-691-8589.