The Pulmonary Hypertension Clinic at Marshall Health brings together cardiologists and pulmonologists from the departments of cardiology and internal medicine. The collaborative approach allows us to provide comprehensive care for pulmonary hypertension patients. 
When your doctor refers you to the Pulmonary Hypertension Clinic, your information will be reviewed by one of our specialists with the goal of providing diagnosis, treatment and long-term management of patients with all forms of pulmonary hypertension.
In addition to access to both cardiology and pulmonology specialists, the clinic offers patients comprehensive diagnostic and therapeutic services in one convenient location.
Clinical Interests:
Locations:
---
Clinical Interests:
Locations:
---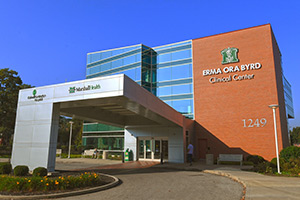 Erma Ora Byrd Clinical Center
1249 15th Street
Huntington, WV 25701
Phone: 304-691-1000

Appointments
The Pulmonary Hypertension Clinic requires a physician referral. Talk with your physician about your condition and ask them to call 304-691-6841 for more information or to schedule an appointment.