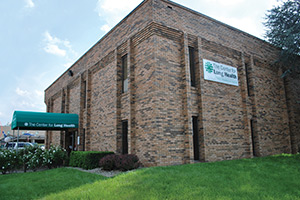 CHH Center for Lung Health
1305 Elm StreetHuntington, WV 25701
Phone: 304-399-2881
Fax: 304-399-2889
For more information, visit cabellhuntington.org/services/center-for-lung-health.
Cabell Huntington Hospital's Center for Lung Health offers evaluations by Marshall Health's board-certified pulmonologists and treatment for a variety of lung problems and conditions. Outpatient evaluations also include pulmonary function testing, arterial blood gases, methacholine challenge testing, six-minute walk testing and cardiopulmonary stress testing.
Parking
Parking garage
Parking lot
Covered canopy for patient drop-off/pick-up
Complimentary valet services. Pull your car up to the main entrance under the canopy. A parking attendant will give you a receipt, take your keys and park your car for you. When you are ready to leave, simply give the attendant your receipt, and the car will be driven up to the entrance for you.
Shuttle service. Call boxes are available for complimentary shuttle pick-up. To request courtesy shuttle pickup, call 304-544-RIDE.
Clinical Interests:
Locations:
---
Clinical Interests:
Locations:
---
Clinical Interests:
Locations:
---