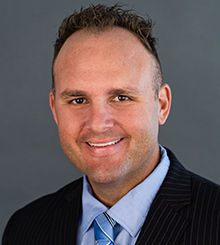 Chad D. Lavender, MD
Assistant Professor
Departments
Clinical Interests
Privileges
Biography
Dr. Chad Lavender is an accomplished orthopedic surgeon, specializing in knee and shoulder arthroscopy and sports medicine. Dr. Lavender's passion for sports medicine led him to become a team physician for multiple teams at various levels, including the University of Charleston, Virginia Tech and Marshall University. He is recognized nationally and internationally as an innovator in the field of orthopaedic sports medicine, having published numerous papers and authoring his own book, titled "Biologic and Arthroscopic Approaches in Sports Medicine." Dr. Lavender's research interests include the nanoscope and the Fertilized ACL. His research has recently won awards, both locally and nationally. He has traveled extensively, giving seminars, lectures, and training surgeons on his technique in more than 20 cities throughout the country. Additionally, he has been featured on iHeartRadio, regional Fox Sports news outlets, and national publications such as Sporting News. Patients from 18 states have traveled to Marshall to receive care from Dr. Lavender as their surgeon for knee and shoulder arthroscopy. His dedication to patient care and his pioneering research make him a true leader in his field.
Education & Training
Medical School: West Virginia University School of Medicine (Morgantown, W.Va.)
Residency: Marshall University Joan C. Edwards School of Medicine (Huntington, W.Va.)
Fellowship: Orthopaedic Research of Virginia - Orthopaedic Sports Medicine (Richmond, Va.)
Honors & Memberships
2022 West Virginia Health Care Hall of Fame

, WV Executive Magazine
Certification
Certified: American Board of Orthopaedic Surgery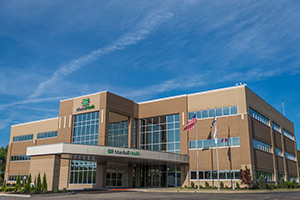 Marshall Orthopaedics - Teays Valley
An outpatient department of Cabell Huntington Hospital
Marshall Health - Teays Valley
300 Corporate Center Drive
1st Floor
Scott Depot, WV 25560
Phone: 304.691.6710

---
Lavender C, Taylor S, Macaskill M, Peluso R, Hewett T, Jasko J. 2022. Rotator Cuff Repair Using a Needle Arthroscope Through a Dual-Lumen Flexible Cannula. Arthrosc Tech. 2022 12 3;11(11):e2119-e2123.
View on PubMed
Hewett TE, Lavender CD, Webster KE. 2022. Is there a biomechanical "Rule of Thirds" after ACL injury and reconstruction? J Orthop. 2022 7 1;33:1-4.
View on PubMed
Lavender C, Adil S, Patel T, Bullock M, Oliashirazi A. 2021. Incisionless Synovium and Bone Biopsy of a Painful Total Knee Arthroplasty. Arthrosc Tech. 2021 3 9;10(2):e475-e479.
View on PubMed
Adil A, Bullock M, Oliashirazi A, Lavender C. 2021. Incisionless Synovium and Bone Biopsy of a Painful Total Knee Arthroplasty. Biologic and Nanoarthroscopic Approaches in Sports Medicine. Springer: 2021:147-154.
Lavender C, Lycans D, Kopiec A, Sayan A. 2020. Nanoscopic Single-Incision Anterior Labrum Repair. Arthrosc Tech. 2020 4 1;9(3):e297-e301.
View on PubMed
Lavender C, Lycans D, Sina Adil SA, Berdis G. 2020. Single-Incision Rotator Cuff Repair With a Needle Arthroscope. Arthrosc Tech. 2020 5 6;9(4):e419-e423.
View on PubMed
Lavender C, Oliashirazi A,.. 2020. Incisionless knee synovectomy and biopsy with the nanoscope and graftnet
Lavender C, Lycans D, Sina Adil SA, Kopiec A, Schmicker T. 2020. Incisionless Partial Medial Meniscectomy. Arthrosc Tech. 2020 4 1;9(3):e375-e378.
View on PubMed
Lavender C, Johnson B, Singh V, Dennis E, Torres L. 2019. The Lavender Fertilized Anterior Cruciate Ligament Reconstruction: A Quadriceps Tendon All-Inside Reconstruction Fertilized With Bone Marrow Concentrate, Demineralized Bone Matrix, and Autograft Bone. Arthrosc Tech. 2019 11 19;8(9):e1019-e1023.
View on PubMed
Lavender C, Bishop C. 2019. The Fertilized ACL. An All-Inside ACL Reconstruction Augmented with Amnion, Bone Marrow Concentrate, and a Suture Tape June 2019Volume 8, Issue 6, Pages e555–e559
Lavender C, Johnson B, Kopiec A. 2018. Augmentation of Anterior Cruciate Ligament Reconstruction With Bone Marrow Concentrate and a Suture Tape. Arthrosc Tech. 2018 12 29;7(12):e1289-e1293.
View on PubMed
Lavender CD, Hanzlik SR, Caldwell PE, Pearson SE. 2016. Transosseous Medial Meniscal Root Repair Using a Modified Mason-Allen Suture Configuration. Arthrosc Tech. 2016 6 11;4(6):e781-4.
View on PubMed
Lavender CD, Hanzlik SR, Pearson SE, Caldwell PE. 2016. Arthroscopic Reverse Remplissage for Posterior Instability. Arthrosc Tech. 2016 4 14;5(1):e43-7.
View on PubMed
Lavender C, Boukhemis K, Grasu B, Jasko J, Giangarra C. 2013. Bilateral Osteochondritits Dissecans in a 16 Year Old Female Basketball Player