Arthritis and other rheumatic diseases are common conditions that cause pain, swelling, and limited movement. They affect joints and connective tissues around the body, leading to redness and swelling, or inflammation. There are more than 100 different arthritis diseases. Rheumatic diseases include any condition that causes pain, stiffness, and swelling in joints, muscles, tendons, ligaments or bones. Arthritis is usually ongoing, or chronic.
The 2 most common forms of arthritis are:
Osteoarthritis is the most common type of arthritis. It is a chronic disease of the joints, especially the weight-bearing joints of the knee, hip, and spine. It destroys the padding on the ends of bones (cartilage) and narrows the joint space. It can also cause bone overgrowth, bone spurs and reduced function. It occurs in most people as they age. It may also occur in young people from an injury or overuse.
Rheumatoid arthritis is an inflammatory disease of the joint linings. The inflammation may affect all of the joints. It can also affect organs such as the heart or lungs.
Other forms of arthritis or related disorders include:
Gout.

 

This condition causes uric acid crystals to build up in small joints, such as the big toe, causing pain and inflammation.
Lupus.

 

This is a chronic autoimmune disorder. It causes periods of inflammation and damage in joints, tendons and organs.
Scleroderma.

 

This autoimmune disease causes thickening and hardening of the skin and other connective tissue in the body.
Ankylosing spondylitis.

 

This disease causes the bones of the spine to grow together. It can also cause inflammation in other parts of the body. It can affect the shoulders, hips, ribs, and the small joints of the hands and feet.
Juvenile idiopathic arthritis (JIA) or juvenile rheumatoid arthritis (JRA).

 

This is a form of arthritis in children that causes inflammation and joint stiffness. Children often outgrow JRA. But it can affect bone development in a growing child.
---
Common arthritis symptoms
Each person's symptoms may vary and can resemble other health conditions, so it's important to talk with your doctor if you're experiencing:
Pain in one or more joints that doesn't go away, or comes back
Warmth and redness in one or more joints
Swelling in one or more joints
Stiffness in one or more joints
Trouble moving one or more joints in a normal way
Clinical Interests:
Locations:
---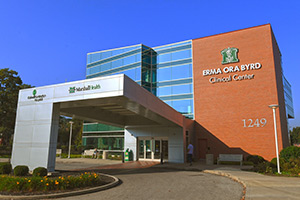 Marshall Internal Medicine
A provider-based department of Cabell Huntington Hospital
Erma Ora Byrd Clinical Center
1249 15th Street
2nd & 3rd Floor
Huntington, WV 25701
Phone: 304.691.1000

---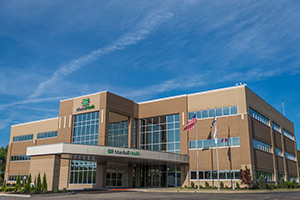 Marshall Internal Medicine - Teays Valley
An outpatient department of Cabell Huntington Hospital
Marshall Health-Teays Valley
300 Corporate Center Drive
2nd Floor
Scott Depot, WV 25560
Phone: 304.691.6910