If your immune system is not working properly, you may suffer from frequent, severe and/or uncommon infections, such as:
sinusitis - inflammation of one or more of the sinuses

pneumonia - infection of the lung

thrush - a fungus infection in the mouth

abscesses that keep coming back - collections of pus surrounded by inflamed tissue
Our specialists work to diagnose and treat both pediatric and adult patients with immune deficiencies (primary immunodeficiency) such as:
Ataxia Telangiectasia
Chronic Granulomatous Disease
Complement deficiencies
CVID (Common Variable Immunodeficiency)
DiGeorge Syndrome
Recurrent infections
Hyper IgE Syndrome (Job Syndrome)
Hyper IgM Syndromes
Immunodeficiency, antibody deficiency (low T, B or NK cells, etc.)
Innate Immune Defects (NOMID, Muckle-Wells, recurrent fevers, Hyper-IgD syndrome, PFAPA, etc)
NEMO Deficiency Syndrome
Newborn screening follow-ups (positive TREC or SCID screening)
Other antibody deficiency disorders
Other primary cellular immunodeficiencies
Selective IgA Deficiency
Severe Combined Immune Deficiency (SCID) and Combined Immune Deficiency
Specific Antibody Deficiency
Transient Hypogammaglobulinemia of Infancy
Wiskott-Aldrich Syndrome 
Clinical Interests:
Locations:
---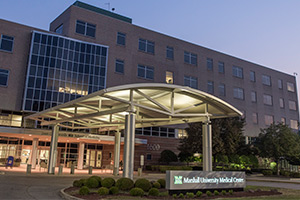 Marshall Pediatrics
1600 Medical Center Drive
3rd Floor
Huntington, WV 25701
Phone: 304.691.1300

Multispecialty Care
Multispecialty care is available for eosinophilic esophagitis and primary immunodeficiency, if needed. Call Marshall Pediatrics at 304-691-1300 to learn more.