Pediatric Allergies & Asthma
Your child's immune system is designed to fight infections. If your child has allergies, his or her immune system may react adversely to things that don't bother most other people.
Allergies can range from minor to severe and cause a variety of symptoms such as a runny nose, sneezing, itching, rashes, swelling or asthma. Anaphylaxis is a severe reaction that can be life-threatening. Our doctors use skin and blood tests to diagnose allergies. Treatments include medicines and avoiding substances that cause the reactions. The wide range of services available and conditions we treat include:
Allergy testing
Allergic rhinitis
Anaphylaxis
Angioedema (swelling)
Asthma
Atopic dermatitis
Chronic cough
Chronic rhinitis
Chronic sinusitis
Chronic urticaria (chronic hives)
Contact dermatitis
Drug allergy
Eczema
Food allergy
Food-protein induced enterocolitis syndrome (FPIES)
Patch testing
Spirometry/Lung Function Testing
Urticaria (hives)
Children are not just small adults. They cannot always tell us what is bothering them; they cannot always answer medical questions. They are not always able to be patient and cooperative during a medical examination. Our pediatric allergists/immunologists are trained to examine and treat children in a way that helps them relax and cooperate so that we can identify the causes of these reactions in your child and offer ways to decrease symptoms so that your child can live a healthy life.
Clinical Interests:
Locations:
---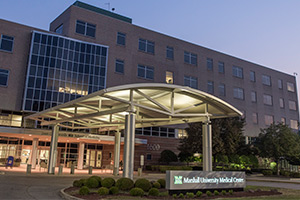 Marshall Pediatrics
1600 Medical Center Drive
3rd Floor
Huntington, WV 25701
Phone: 304-691-1300
Toll-Free Phone: 877-691-1600

Multispecialty Care
Multispecialty care is available for eosinophilic esophagitis and primary immunodeficiency, if needed. Call Marshall Pediatrics at 304-691-1300 to learn more.