The Marshall Health Internal Medicine Nurse Practitioner Fellowship is a one-year post graduate training program. Fellows are required to complete general internal medicine and cardiology rotations. Other rotations may include but are not limited to endocrinology, gastroenterology, nephrology and pulmonology. This year the program will be expanding to include rural rotations. A total of 4 fellows will be selected each year
Fellows' schedules follow a normal business work week with work days being 8-12 hours. Occasionally, an afternoon or weekend is required for special projects such as community service or scholarly projects. Work includes clinical rotations, continuity care clinic, on-site training, lectures, reading, and research or quality improvement project. The program observes Marshall Health holidays.
These are the goals of the Marshall Health Internal Medicine Nurse Practitioner Fellowship Program:
To transform a novice or transitioning nurse practitioner to a professional health care practitioner who functions at the highest level of professional practice
To utilize evidence-based medicine, the nurse practitioner will be able to diagnose, treat, manage, and educate the patient and family about disease states managing their own caseload of internal medicine patients or internal medicine specialty clinic patients with high quality cost-effective care
To develop communication and leadership skills to effectively communicate with an interdisciplinary team, patients, patients family and professionally at health care conferences
To develop skills to approach patients in a holistic manner, understanding disease process, patients emotions, physical and cultural needs
To immerse the nurse practitioner in pharmacology, diagnostics, procedures and use of an interdisciplinary team for management of patients
To retain nurse practitioners trained in internal medicine or internal medicine specialty areas that are committed to excellence in medical education and excellence in patient care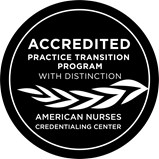 The Marshall Health Internal Medicine Nurse Practitioner Fellowship holds Accreditation with Distinction through the American Nurses Credentialing Center's Commission on Accreditation.
Continuing medical education (CME) will be provided by the Marshall University Joan C. Edwards School of Medicine and nursing continuing education unit (CEU) hours will be provided by Cabell Huntington Hospital for medical conferences sponsored by Marshall Health Internal Medicine.
The Marshall Health Internal Medicine Nurse Practitioner Fellowship program is located within the Erma Ora Byrd Clinical Center in Huntington, West Virginia. The facility is 80,000 square feet and houses medical student teaching classrooms, clinical education facilities, patient care clinics, diagnostic imaging suite and a pharmacy. The facility is located directly across from Cabell Huntington Hospital, a 303-bed teaching hospital for Marshall University Schools of Medicine, Pharmacy and Nursing. The Marshall University Medical Center, adjacent to Cabell Huntington Hospital, houses Harless Auditorium, which is a state-of-the-art auditorium that serves as a primary site for grand rounds, lectures and conferences.
Learn more about Marshall University's growing health sciences campus.
---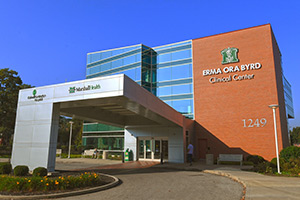 Erma Ora Byrd Clinical Center
1249 15th Street
Huntington, WV 25701
Phone: 304-691-1000

---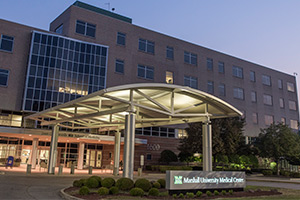 Marshall University Medical Center
1600 Medical Center Drive
Huntington, WV 25701
Phone: 304-691-1600
Toll-Free Phone: 877-691-1600

Benefits
All nurse practitioner fellows are eligible for Marshall Health benefits, including 3 weeks vacation; 12 sick days; 11 holidays annually; health, dental, vision and life insurance; and retirement. Educational funding for national conference and poster presentations based on approval from program director.
Visit the Benefits page for more information on employee benefits.
---
Stipend
A stipend is given biweekly for 12 months and is highly competitive based on national nurse practitioner fellowship program trends.
---
Living Expenses
Each fellow is responsible for their own living and travel expenses both during the interview process and during the fellowship program. 
Contact Us
Have questions or want to know more? Contact us at npfellowship@marshall.edu.