---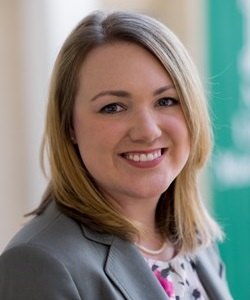 Sheanna M. Spence, MS
Chief Marketing Officer, Marshall Health
Sheanna Spence serves as the chief marketing officer for Marshall Health and the Marshall University Joan C. Edwards School of Medicine. Since joining the organization in 2015, she has held several positions, including director of external affairs and assistant director of alumni affairs and community relations, until her appointment as chief marketing officer in 2015. As chief marketing officer, Sheanna oversees the public relations and marketing efforts for the school of medicine and Marshall Health, including advertising, publications, media relations, digital and social media and more.
Prior to joining Marshall, she worked for nearly 10 years in development and community outreach at Mountwest Community & Technical College in Huntington and The Education Alliance in Charleston.
She has a Bachelor of Arts in Journalism from Marshall University and a Master of Science in Journalism from Ohio University. A Huntington native, she now lives with her husband and their two children in Teays Valley, West Virginia, where they are active in their community and church.