Integrated Academic Health System
Integrated Academic Health System
In April 2023, the governing boards of Marshall Health, Marshall University and Mountain Health Network voted unanimously to authorize signing a letter of intent to form an integrated academic health system with the Joan C. Edwards School of Medicine. The formation of an academic health system will drive the delivery of high-quality multidisciplinary care, provide a forum for training the next generation of health care providers and advance research opportunities aimed at improving the health and wellness of patients and communities across West Virginia and the bordering states of Kentucky and Ohio.
The new academic health system provides the greatest likelihood of achieving results:
Demonstrable and measurable benefit to our community and multistate region
Accelerated performance of the academic health system and university
The best strategic position for increasing competitiveness in the market
The letter of intent was the first step in the process that enables our three entities to proceed with the necessary due diligence and governing documents that result in a definitive agreement. This section of our website is dedicated to updating you on that process. 
If you have any additional questions, please contact Michael Chirico at chirico4@marshall.edu.
---
Foundational Principles
Project Marco is driven by the following foundational principles:
Enhance treatment options and expand access to care and value for patients, students, employees and the community.
Expand centers of excellence where the institutions' collective assets can build durable advantages.
Create an environment in which physicians and other health professionals are encouraged to stay and grow in West Virginia.
Enhance the educational experience for students by evaluating current offerings, providing a broader range of opportunities and creating a health science career pipeline.
Advance research within the university's four focus areas of healthcare:


Addiction & behavioral health
Gerontology & healthy aging
Obesity & diabetes
Rural health & primary care
---
Preserving and Advancing the Academic Mission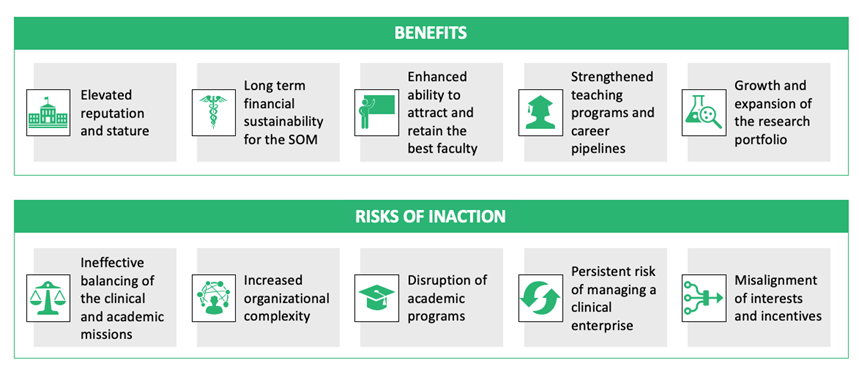 Image Credit: ECG Management Consultants