---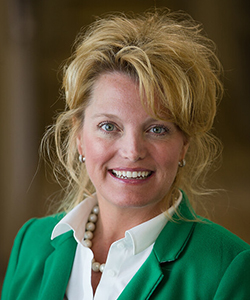 Beth L. Hammers, MBA
Chief Executive Officer, Marshall Health
Beth L. Hammers, MBA, has served as CEO of Marshall Health and chief administrative officer of the Marshall University Joan C. Edwards School of Medicine since 2011. Bringing more than 30 years of experience in academic health care administration to her role, Hammers has led Marshall Health through tremendous growth over the past decade while working to increase access to care.
Ms. Hammers has served in varied roles in academic medicine administration, from graduate student to director of compliance & risk management and chief operating officer, during her tenure at Marshall Health. She is a two-time Marshall University graduate, earning both her bachelor's degree in business and a master's degree in business administration from the Lewis College of Business. 
She is an active member of the community, mentoring and volunteering her time to a number of organizations. She is president of the PROACT Board of Directors, vice chair of the West Virginia Library Commission and serves on the boards of The Education Alliance, Peak Health, Marshall University Research Corporation and the West Virginia Chamber of Commerce. She is past president of the Cabell Huntington Hospital and Mountain Health Network boards of directors. Ms. Hammers also volunteers as a mentor for the John Marshall Leadership Fellows program at Marshall University.
Ms. Hammers is a recipient of the 2016 Changing the Conversation award sponsored by the Charleston-Institute Alumnae Chapter of Delta Sigma Theta Sorority Inc. for her work in social action. She is also a 2003 alumna of Leadership West Virginia. She was named a West Virginia Wonder Woman in 2019 by WV Living magazine and a West Virginia Sharp Shooter in 2022 by WV Executive magazine.
She is married to Sean "Corky" Hammers, prosecuting attorney for Cabell County, and is the mother of two children.