Led by Pulmonologists Amro Al-Astal, MD, FCCP, and Mohammed Megri, MD, the Interstitial Lung Disease (ILD) Clinic at Marshall Health provides multidisciplinary care and treatment for patients with more than 300 different types lung diseases that result in the progressive scarring of lung tissue. Although lung scarring cannot be reversed, the ILD Clinic integrates various medications, treatments and therapies to slow the progression of the disease and improve lung function.   
The most common symptoms of ILD are:
Shortness of breath
Persistent cough
Fatigue
Chest discomfort
The clinic also takes an integrated approach to care, leveraging the expertise of Marshal Health's pulmonology, critical care and sleep medicine team with radiologists, interventional pulmonologists, thoracic surgeons, rheumatologists, pathologists and clinical pharmacists as needed to ensure patients receive a comprehensive, personalized treatment plan.
Clinical Interests:
Locations:
---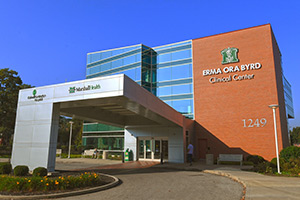 Marshall Internal Medicine
An outpatient department of Cabell Huntington Hospital
Erma Ora Byrd Center
1249 15th Street
2nd & 3rd Floor
Huntington, WV 25701
Phone: 304-691-1000

APPOINTMENTS AND REFERRALS
For more information, to make a referral or schedule a second opinion, call Marshall Internal Medicine at 304-691-1006.