Marshall Health understands the impact that pain has on doing everyday tasks, not to mention your overall quality of life. According to the National Institutes of Health, pain is cited as the most common reason Americans access the health care system.
Marshall Senior Pain and Wellness Center is dedicated to diagnosing and treating pain conditions unique to adults 55 and older utilizing the most advanced interventional pain and medical techniques. The Marshall Senior Pain & Wellness Center emphasizes preventive medicine and focuses on restoring function in senior adults.
At the Senior Pain & Wellness Center, we integrate treatment options that incorporate interventional pain management, physical therapy and alternative therapies, psychological services, pharmacotherapy and minimally-invasive surgery for variety of common conditions, including:
Arthritis pain
Chronic low back/cervical pain
Chronic intractable pain
Degenerative disc disease
Degenerative joint disease
Failed Back Surgery Syndrome
Neuralgia
Post-laminectomy pain
Radiculopathy
Sciatica
The Marshall Senior Pain & Wellness Center provides a comprehensive range of interventional pain management options to meet the needs of patients:
Epidural steroid injections
Facet joint blocks
Joint injections
Radiofrequency ablation
Trigger point injections
Sympathetic blocks
Peripheral nerve blocks
Spinal cord stimulation
Psychological counselling
Non-addictive medication options
Additional services
Patients may be referred for other services to treat chronic pain, including imaging services (e.g. MRI, x-ray, CT, ultrasound), physical/occupational therapy, sleep study, surgery. The center also promotes healthy lifestyle choices, including exercise, diet and smoking cessation.
Clinical Interests:
Locations:
---
Clinical Interests:
Locations:
---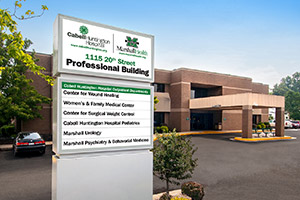 Marshall Senior Pain & Wellness Center
A provider-based department of Cabell Huntington Hospital
20th Street Professional Building
1115 20th Street
Huntington, WV 25703
Phone: 304.691.6779