This proactive approach to concussion management establishes baseline data in healthy patients using ImPACT (Immediate Post-Concussion Assessment and Cognitive Testing) testing, the industry gold standard in concussion testing. Testing protocols vary based on age. 
With a patient's baseline test results, physicians can evaluate neurocognitive function after sustaining a concussion and compare that function to baseline levels. Baseline testing allows physicians to develop a more personalized treatment plan and provide safer return-to-play decisions for younger athletes who sustain a concussion. 
---
ImPACT Pediatric
The first and only FDA-approved concussion assessment aid for ages 5 to 11. This tablet-based tool takes only about 10 to 15 minutes to complete the test. 
ImPACT
This online test is for ages 12 to 59. 
"As more children under the age of 12 participate in recreational physical activity, baseline testing in children is increasingly essential to overall concussion management. It provides us greater insight into cognitive changes and develop a personalized treatment plan accordingly."
Andy Gilliland, MD
Primary Care Sports Medicine Physician
THE REGION'S GAME CHANGER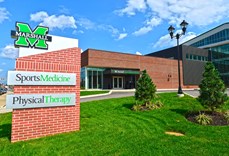 The Marshall Sports Medicine Instituteis a premier sports medicine facility with the region's only academic sports medicine team.