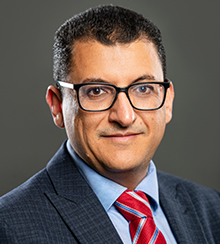 Khalid Abozguia, MD, PhD
Associate Professor
Director of Electrophysiology, Marshall Health
Departments
Clinical Interests
Privileges
Biography
An internationally-acclaimed electrophysiologist of extraordinary ability in electrophysiology and cardiac device implantation, Dr. Khalid Abozguia is one of only a handful of such accomplished electrophysiologists in the nation. He received his training in prestigious institutions in both the United Kingdom and the United States, equipping him with a diverse range of clinical skills and knowledge to treat complex heart disease.
As an electrophysiologist, Dr. Abozguia performs catheter ablations for cardiac arrhythmias, accessing the heart via non-invasive entry sites in the wrist or leg. These are outpatient procedures, resulting in greatly improved recovery times for patients. He is a respected treatment expert for several significant and pioneering specialty procedures in this field, including supraventricular tachycardia (SVT), atrial flutters, and atrial fibrillation (AF). He is experienced in both Cryo and RF (radiofrequency) ablation techniques for complex cases, such as endocardial and epicardial ventricular tachycardia (VT), allowing patients access to an expert who can employ the best solution in their specific medical case. Additionally, Dr. Abozguia has extensive expertise both in implanting various cardiac devices, including pacemakers, BiV (biventricular) pacemakers, defibrillators, sub-cutaneous ICDs, and leadless pacemakers, as well as in performing state-of-the-art device extraction procedures. This continuation of his world-renowned expertise provides patients with consistent high-level care for both implant and extraction stages of treatment, at the skilled hands of the same medical expert. Notably, Dr. Abozguia is recognized for his pioneering work in implanting
Watchman Flex closure devices
and performing the
first CardioNeuroAblation (CNA) procedure
within the state of West Virginia. CNA is a life-saving and ground breaking procedure available by fewer than 10 licensed practitioners in the U.S. This procedure allows direct electrical treatment to nerves around the heart, eliminating the need for an invasive and maintenance-heavy pacemaker. He is also known for his expertise in practicing the
Zero Fluoroscopy technique
for ablation procedures, which allow accurate catheter guidance during surgery using heart-mapping via echolocation, rather than fluoroscopic emission of radiation within the patient's heart. In May 2023, the Food and Drug Administration approved the echolocation diagnostic method for the Watchman surgical procedure. Dr. Abozguia was among the first wave of U.S. doctors to use this cutting-edge regulatory approval, applying his pre-existing expertise in both cardial echolocation techniques and the Watchman surgical device, to reduce stroke risk and blood thinning complications among our patient population. These advanced methods, still less than a year old in the cardiological medical community, demonstrate Marshall Health's commitment to innovation when it comes to improving all aspects of patient recovery and long-term cardiac health. He has also earned a PhD degree in Cardiology from the University of Birmingham, UK in 2010, where he conducted a multi-center randomized clinical trial in collaboration with the University of Oxford and the University of London. His impressive research record includes 45 scientific papers published in high-impact factor journals, as well as 30 abstracts presented at national and international conferences such as the British Cardiovascular Society (BCS), British Heart Rhythm Society (BHRS), European Society of Cardiology (ESC), American College of Cardiology (ACC), and American Heart Association (AHA). Apart from his globally-recognized extraordinary clinical and research achievements, Dr. Abozguia has a proven commitment to medical education and serves as a co-editor of the education websites 'ecardia.org' and "ScrubdIn", reflecting his dedication to advancing the knowledge and skills of fellow health care professionals in the field of cardiology. With his exceptional expertise and contributions to the field of cardiology, Dr. Abozguia is highly respected and sought after by patients and peers alike. He continues to make significant contributions to the advancement of cardiac care through his clinical practice, research, and commitment to medical education.
Education & Training
Doctorate: University of Birmingham - Cardiovascular Medicine (Birmingham, United Kingdom)
Medical School: University of Tripoli (Tripoli, Libya)
Residency: University Hospital of Wales (Cardiff, United Kingdom)
Residency: Raigmore Hospital (Inverness, United Kingdom)
Residency: West Cumberland Hospital (Whitehaven, United Kingdom)
Residency: Wansbeck General Hospital (Ashington, United Kingdom)
Residency: Royal Victoria Infirmary (Newcastle upon Tyne, United Kingdom)
Fellowship: University of Birmingham (Birmingham, United Kingdom)
Fellowship: University of Oxford and University College of London (London, United Kingdom)
Fellowship: Metro Health Medical Center, Cleveland Clinic - Cardiac Electrophysiology and Device (Cleveland, Ohio)
Fellowship: Queen Elizabeth Hospital (Birmingham, United Kingdom)
Fellowship: Russell Hall Hospital (Dudley, United Kingdom)
Fellowship: Walsall Manor Hospital (Walsall, United Kingdom)
Honors & Memberships
Member

, Royal College of Physicians

Member

, European Society of Cardiology

Member

, Medical Protection Society

Member

, European Heart Rhythm Association (EHRA)

Member

, Heart Rhythm Society
Certification
Certified: Cardiac Devices Specialist IBHRE Board in Cardiac Rhythm Devices, USA
Certified: Completion of Training (CCT), Cardiology, Electrophysiology and Devices, UK
Certified: EP Specialist IBHRE Board in Electrophysiology, USA
Additional Languages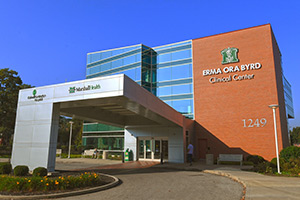 Marshall Cardiology - Huntington
A provider-based department of Cabell Huntington Hospital
Erma Ora Byrd Clinical Center
1249 15th Street
4th Floor
Huntington, WV 25701
Phone: 304.691.8500

---