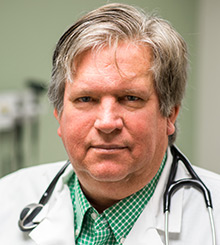 Mark A. Studeny, MD
Professor
Senior Associate Dean, Physician Collaboration & Student Engagement
Departments
Clinical Interests
Privileges
Biography
Dr. Studeny specializes in invasive and interventional cardiology, interventional peripheral vascular therapies and transcatheter aortic valve replacement (TAVR).
Education & Training
Medical School: Marshall University Joan C. Edwards School of Medicine (Huntington, W.Va.)
Residency: Texas Tech University (Lubbock, Texas)
Fellowship: Marshall University Joan C. Edwards School of Medicine (Huntington, W.Va.)
Honors & Memberships
Fellow

, American College of Cardiology
Certification
Certified: American Board of Internal Medicine, subspecialty certifications in Cardiovascular Disease and Interventional Cardiology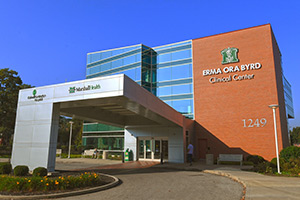 Marshall Cardiology - Huntington
A provider-based department of Cabell Huntington Hospital
Erma Ora Byrd Clinical Center
1249 15th Street
4th Floor
Huntington, WV 25701
Phone: 304.691.8500

---
Yousef GM, Poe, J, Kilmer C, Edris B, Mader J, Thompson, EA, Snavely D, Cansino, S, Shapiro JI, Studeny, MA. 2018. Outcomes of Transcutaneous Aortic Valve Replacement Among High Risk WV Sample Population 2018 October;4(4.6);31-45
Bhatt DL, Steg PG, Miller M, Brinton EA, Jacobson TA, Ketchum SB, Doyle RT, Juliano RA, Jiao L, Granowitz C, Tardif JC, Ballantyne CM, REDUCE-IT Investigators. 2018. Cardiovascular Risk Reduction with Icosapent Ethyl for Hypertriglyceridemia. N. Engl. J. Med. 2018 11 13;380(1):11-22.
View on PubMed
Lincoff AM, Nicholls SJ, Riesmeyer JS, Barter PJ, Brewer HB, Fox KAA, Gibson CM, Granger C, Menon V, Montalescot G, Rader D, Tall AR, McErlean E, Wolski K, Ruotolo G, Vangerow B, Weerakkody G, Goodman SG, Conde D, McGuire DK, Nicolau JC, Leiva-Pons JL, Pesant Y, Li W, Kandath D, Kouz S, Tahirkheli N, Mason D, Nissen SE, ACCELERATE Investigators. 2017. Evacetrapib and Cardiovascular Outcomes in High-Risk Vascular Disease. N. Engl. J. Med. 2017 5 23;376(20):1933-1942.
View on PubMed
Tekleyes FG, Lester MD, Studeny MA, Thompson ET, Craig S. 2016. An Unusual Migration of a Stent: A Case Report April 2016; Vol 2, Iss 2; 9
Nissen SE, Yeomans ND, Solomon DH, Lüscher TF, Libby P, Husni ME, Graham DY, Borer JS, Wisniewski LM, Wolski KE, Wang Q, Menon V, Ruschitzka F, Gaffney M, Beckerman B, Berger MF, Bao W, Lincoff AM, PRECISION Trial Investigators. 2016. Cardiovascular Safety of Celecoxib, Naproxen, or Ibuprofen for Arthritis. N. Engl. J. Med. 2016 12 14;375(26):2519-29.
View on PubMed
Ellis SG, Kereiakes DJ, Metzger DC, Caputo RP, Rizik DG, Teirstein PS, Litt MR, Kini A, Kabour A, Marx SO, Popma JJ, McGreevy R, Zhang Z, Simonton C, Stone GW, ABSORB III Investigators. 2015. Everolimus-Eluting Bioresorbable Scaffolds for Coronary Artery Disease. N. Engl. J. Med. 2015 12 15;373(20):1905-15.
View on PubMed
Thompson, EA. Studeny, MA.. 2015. Clinical Images - An Incidental EKG (2015) Vol. 1: Iss. 1, Article 9.
Kereiakes DJ, Yeh RW, Massaro JM, Driscoll-Shempp P, Cutlip DE, Steg PG, Gershlick AH, Darius H, Meredith IT, Ormiston J, Tanguay JF, Windecker S, Garratt KN, Kandzari DE, Lee DP, Simon DI, Iancu AC, Trebacz J, Mauri L, Dual Antiplatelet Therapy (DAPT) Study Investigators. 2015. Antiplatelet therapy duration following bare metal or drug-eluting coronary stents: the dual antiplatelet therapy randomized clinical trial. JAMA. 2015 3 31;313(11):1113-21.
View on PubMed
Mauri L, Kereiakes DJ, Yeh RW, Driscoll-Shempp P, Cutlip DE, Steg PG, Normand SL, Braunwald E, Wiviott SD, Cohen DJ, Holmes DR, Krucoff MW, Hermiller J, Dauerman HL, Simon DI, Kandzari DE, Garratt KN, Lee DP, Pow TK, Ver Lee P, Rinaldi MJ, Massaro JM, DAPT Study Investigators. 2014. Twelve or 30 months of dual antiplatelet therapy after drug-eluting stents. N. Engl. J. Med. 2014 12 17;371(23):2155-66.
View on PubMed
Lincoff AM, Tardif JC, Schwartz GG, Nicholls SJ, Rydén L, Neal B, Malmberg K, Wedel H, Buse JB, Henry RR, Weichert A, Cannata R, Svensson A, Volz D, Grobbee DE, AleCardio Investigators. 2014. Effect of aleglitazar on cardiovascular outcomes after acute coronary syndrome in patients with type 2 diabetes mellitus: the AleCardio randomized clinical trial. JAMA. 2014 4 29;311(15):1515-25.
View on PubMed
Walker EM, Morrison RG, Dornon L, Laurino JP, Walker SM, Studeny M, Wehner PS, Rice KM, Wu M, Blough ER. 2013. Acetaminophen combinations protect against iron-induced cardiac damage in gerbils. Ann. Clin. Lab. Sci. 2013 9 26;39(4):378-85.
View on PubMed
Darrat YH, Guirgis H, El-Hamdani MO, Cansino S, Gress TW, Studeny M. 2012. Outcomes of primary percutaneous intervention of the unprotected left main coronary artery stenosis in myocardial infarction. South. Med. J. 2012 Nov;105(11):585-90.
View on PubMed
Carver HR, Studeny M, Gress TW, Wood KA. 2012. Quality improvement in an anticoagulation clinic: development of a new treatment protocol. J Nurs Care Qual. 2012 Apr-Jun;27(2):161-70.
View on PubMed
Lasala JM, Cox DA, Dobies D, Muhlestein JB, Katopodis JN, Revtyak G, Baim DS, ARRIVE 1 Participating Physicians. 2008. Usage patterns and 2-year outcomes with the TAXUS express stent: results of the US ARRIVE 1 registry. Catheter Cardiovasc Interv. 2008 9 25;72(4):433-45.
View on PubMed
McKnight J, Studeny M, Roberts G, Touchon R, Wehner P. 2001. Directional coronary atherectomy in acute myocardial infarction. W V Med J. 2001 6 8;97(2):109-10.
View on PubMed