Shannon L. Browning, RPh, MD
Shannon L. Browning, RPh, MD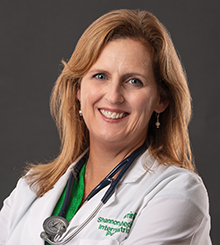 Shannon L. Browning, RPh, MD
Associate Professor
Chief Medical Information Officer; Vice Chair, Clinical Operations; Registered Pharmacist
Departments
Clinical Interests
Privileges
Biography
In January 2021, Dr. Browning became the first chief medical information officer (CMIO) for Marshall Health. This specialized role assists physicians in Marshall Health's outpatient clinics in response to the emphasis on telemedicine and a combined electronic health record with Mountain Health Network. In her role as CMIO, Dr. Browning actively supports physician engagement and alignment in the effective use of clinical information technology resources. This includes providing guidance for the design of systems, clinical content and workflow and operational processes with the goal of improving patient care and delivery of care.
Dr. Browning is double-board certified in internal medicine and pediatrics and is also trained as a registered pharmacist. After being a practicing pharmacist for 5 years, she decided to change her career path and entered medical school. She graduated from the Joan C. Edwards School of Medicine in 2004, where she also completed her internal medicine-pediatrics residency and joined the faculty in 2008. During her time at Marshall, she has engaged in the education of young physicians and other health care professionals, such as pharmacists and nurse practitioners. In addition to patient care and education, she focused on clinical operations of the department of internal medicine. With that experience, she was able to be part of the process of adapting patient care and workflow to the everchanging environment of electronic medical records. Her experiences in the department of internal medicine and her commitment to the Marshall family and the Huntington area, prepared her for her role as CMIO.
Education & Training
Graduate: University of Kentucky College of Pharmacy - RPh (Lexington, Ky.)
Medical School: Marshall University Joan C. Edwards School of Medicine (Huntington, W.Va.)
Residency: Marshall University Joan C. Edwards School of Medicine (Huntington, W.Va.)
Honors & Memberships
Member

, American College of Physicians

Member

, American Academy of Pediatrics

Member

, American Medical Association
Certification
Certified: American Board of Internal Medicine
Certified: American Board of Pediatrics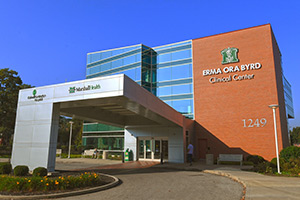 Marshall Internal Medicine
An outpatient department of Cabell Huntington Hospital
Erma Ora Byrd Center
1249 15th Street
2nd & 3rd Floor
Huntington, WV 25701
Phone: 304-691-1000

---
Raru Y, Zeid F, Browning S, Saunders E. 2017. Two patients with daptomycin induced eosinophilic pneumonia with different presentations and treatment. Respir Med Case Rep. 2017 12 5;23:29-32.
View on PubMed
Gilkerson CL, Hayes RM, Prunty L, Sizemore JA, Browning SL, Stanton RB, Yingling KW. 2017. The Development of a Novel Interprofessional Education Curriculum for third year medical and pharmacy students 2017.vol3.iss1.13
Lewis JM, McCallister J, Browning S. 2015. ADHD Parent-Pediatrician Letters to the School: A Family-Centered Medical Home Tool to Improve Collaboration, Grades and Behavior 2015 Mar 3; 2:1-4.
Lewis JM, McCallister J, Browning S. . ADHD Parent-Pediatrician Letters to theSchool 2015 Mar 3;