A variety of cancers can affect the female reproductive system. The gynecologic oncologist at Edwards Comprehensive Cancer Center, in collaboration with Marshall Health and Cabell Huntington Hospital, is specially trained to treat these types of cancers via multiple treatment options, including surgery, radiation therapy, chemotherapy and hormonal therapy.
---
Caring for women with cancer
The majority of women with gynecologic cancers are treated using a combination of treatment modalities. Most often, surgery is combined with post-operative radiation therapy or chemotherapy. In some circumstances, surgery is deferred or postponed until after radiation or chemotherapy has been completed. The skill and training of our gynecologic oncologist allow him to assess the status of the cancer and bring the proper treatments to patients in the proper sequence.
Our care team works closely with physicians trained in radiation therapy to coordinate care for women with cancer who need radiation therapy. They also work closely with the nursing staff at Edwards Comprehensive Cancer Center to manage and oversee the treatment program for women with ovarian cancers or advanced cancers at other sites, when chemotherapy is required.
In addition to treating the disease, our care team is well-versed and experienced in pain management, symptom management, palliative care and end of life issues. They work closely with Hospice agencies across the region to assist patients in maintaining their quality of life.
---
Caring for women without cancer
It is not uncommon for other OB/GYN specialists to refer patients who do not have cancer to our gynecologic oncologist for their surgical expertise. Some of these conditions include concurrent medical problems, extensive adhesions, bowel involvement, bladder difficulties, severe prolapse of the female organs or other factors that could complicate surgery.
Clinical Interests:
Locations:
---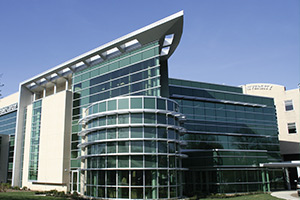 Edwards Comprehensive Cancer Center
1400 Hal Greer Blvd.
Huntington, WV 25701
Phone: 304-399-6500

---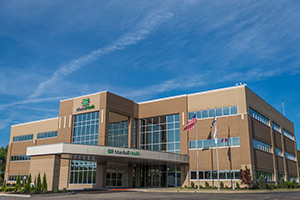 Marshall Obstetrics & Gynecology - Teays Valley
300 Corporate Center Drive
3rd Floor
Scott Depot, WV 25560
Phone: 304-691-1800

Find hope here. EDWARDS COMPREHENSIVE CANCER CENTER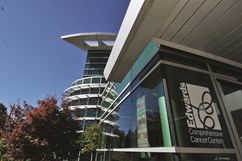 Appointments are made by physician referral only. For more information, call 304-399-6600.