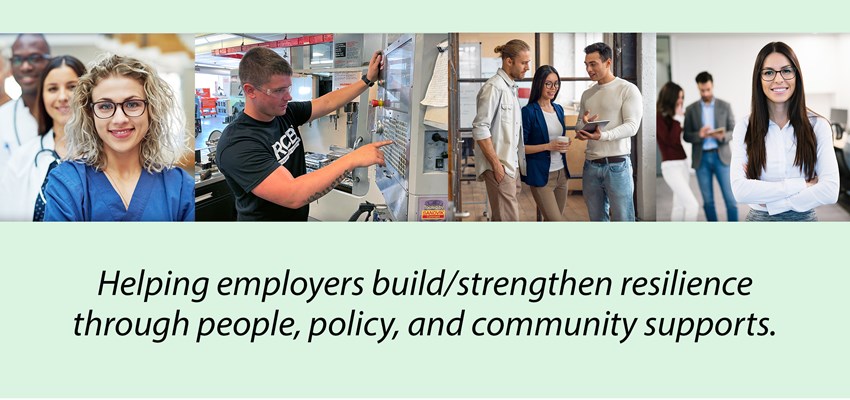 Marshall Health, RCBI announce employer education series
12/22/2022
---
HUNTINGTON, W.Va. – Marshall University's Robert C. Byrd Institute (RCBI) and Marshall Health are teaming up for a series of free virtual workshops for employers starting in January.
Facilitated by the employment experts from Marshall Health's CORE (Creating Opportunities for Recovery Employment) initiative and RCBI, the series will provide human resource professionals and front-line managerial staff with practical strategies and approaches for building and retaining a ready workforce. Topics will include employer evaluation, identifying addiction as a disease, components of a drug-free workplace policy, addressing stigma in the workplace, operations to establish a safe and healthy workplace, and connections to resources to assist employers with issues related to substance use disorder.
The free hourlong sessions, which will run 9 a.m. to 10 a.m. each day, are:
Tuesday, Jan. 10 – CORE: Matching People to Jobs
Tuesday, Feb. 14 – Safe and Healthy Workplace: A Well Culture Advances Recruitment and Retention
Tuesday, March 14 – Set the Temperature: Establish Policies, Procedures and a Culture That Makes a Difference
Tuesday, April 11 – Employer Supports and Incentives: Responding to Workforce Needs 
Employers may register for any or all of the workshops at www.rcbi.org/employersessions. Registrants will receive information about how to join the online events after they register.
RCBI and CORE have a successful history of working together through initiatives such as Recovery Works to prepare individuals recovering from substance use disorder to enter or re-enter the workforce and find and maintain steady employment. For more information, contact RCBI's Carol Howerton by e-mail at carol.howerton@rcbi.org or by phone at 304-781-1670, or CORE's Ashley Shaw at shawa@marshall.edu or 304-691-1995.
The workshops are made possible with U.S. Department of Labor support through its Workforce Opportunity for Rural Communities (WORC) initiative. The total cost of the Manufacturing, Aviation, and Construction Skills Training (MAC) project is $2,389,666.  $1,499,410 (67.2%) is funded through a U.S. Department of Labor – Employment and Training Administration grant.  The other $890,256 is funded through non-federal resources.
###
About Marshall Health
Marshall Health is the clinical enterprise of Marshall University and its Joan C. Edwards School of Medicine. Marshall Health brings together a comprehensive care team of 400 providers in 75 areas of primary and specialty care. As part of an academic health system, Marshall Health is committed to improving access to care throughout southern West Virginia, Ohio and Kentucky through advanced technologies and research that benefit its patients and the communities it serves. To learn more, visit marshallhealth.org. 
About RCBI
Marshall University's Robert C. Byrd Institute (RCBI) provides entrepreneurs and manufacturers access to advanced manufacturing technology and industrial expertise to solve even the most complex challenges so they can innovate and grow their businesses. RCBI's comprehensive services also include quality implementation assistance and innovative training initiatives to improve efficiency, secure contracts and develop and maintain the highly skilled workforce required to compete in the 21st Century economy.
---
Media Relations Contact
Michele McKnight
Assistant Director of External Affairs
304-691-1713 
mcknigh4@marshall.edu
---
Receive Marshall Health News
The Marshall Health newsroom offers our latest news releases, which are distributed through a Marshall University electronic mailing list.
To be added to this list, please e-mail your name, job title, e-mail address, media outlet and location to mcknigh4@marshall.edu.
---
Sign Up for Healthy Herd Updates

Sign up for Marshall Health's official blog. This digital resource is full of stories, recipes, health and wellness information to help you on your wellness journey. 
---
News Release Archives