Amy Garmestani, M.D., joins Marshall Health, School of Medicine
4/26/2016
---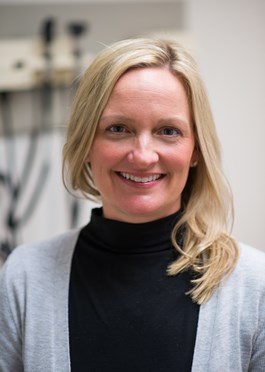 HUNTINGTON, W.Va. — Amy L. Garmestani, M.D., has joined the Marshall University Joan C. Edwards School of Medicine as an assistant professor and Marshall Orthopaedics, a department of Marshall Health.
Garmestani, a 2001 graduate of the Joan C. Edwards School of Medicine, specializes in perioperative medicine and cares for hospitalized post-surgical patients at Cabell Huntington Hospital. She is certified by the American Board of Family Medicine.
Prior to joining Marshall Health, Garmestani practiced in North Carolina at Carolinas Physicians Network, Inc.; Lakeside Family Physicians; and Lakeside Family Physicians Urgent Care, where she served as lead physician. Since 2013, Garmestani has been practicing at Valley Health. Prior to attending medical school, Garmestani earned her Doctor of Chiropractic at the National College of Chiropractic in Lombard, Ill., and was a practicing chiropractor.   
For more information, contact Marshall Orthopaedics at 304-691-1262.
###
Media Relations Contact
Michele McKnight, Community & Media Relations Coordinator
304-691-1713
mcknigh4@marshall.edu
---
Sign Up for Healthy Herd Updates

Sign up for Marshall Health's official blog. This digital resource is full of stories, recipes, health and wellness information to help you on your wellness journey. 
---
News Release Archives