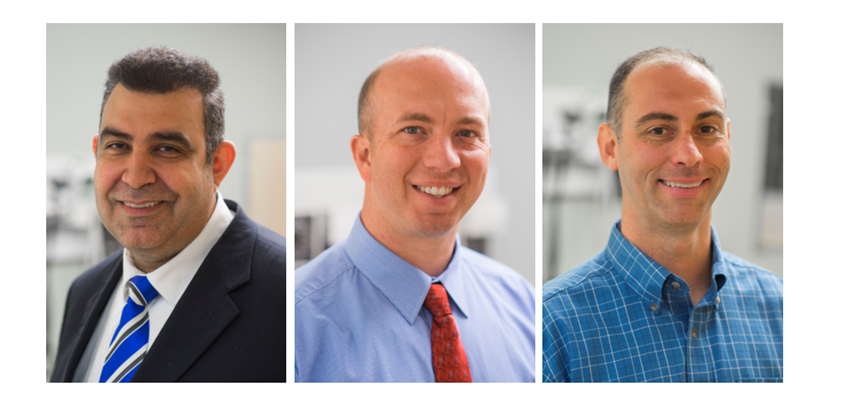 Adult Primary Care now available at Marshall Health-Teays Valley
9/12/2017
---
SCOTT DEPOT, W.Va. – Marshall Health now offers adult primary care services Monday through Friday at its new Teays Valley location at 300 Corporate Center Drive, Scott Depot.
Bisher O. Mustafa, M.D., Ryan W. Anderson, M.S., PA-C, and Christopher Kennedy, M.A., PA-C, join Marshall physician William A. Nitardy, M.D., in offering adult primary care services at Marshall Health-Teays Valley. Primary care includes preventive check-ups, diagnosis and treatment of acute and chronic illnesses, immunizations and more.
Mustafa, a board-certified physician, was appointed associate professor in the department of internal medicine at the Marshall University Joan C. Edwards School of Medicine. He specializes in primary care, vascular medicine and weight management. Mustafa has served as the vice president of medical staff, head of the department of internal medicine and interim chief of medical staff at East Kootenay Regional Hospital in Cranbrook, British Columbia. He most recently worked as the internal medicine residency program director and senior consultant in internal medicine at Sheikh Khalifa Medical City in Abu Dhabi, United Arab Emirates.
Mustafa earned his medical degree from Jordan University of Science and Technology in Irbid, Jordan. He completed residencies in internal medicine at Marshall University and the University of Oklahoma in Oklahoma City, followed by a vascular medicine fellowship also at University of Oklahoma. Mustafa is certified by the American Board of Internal Medicine and American Board of Vascular Medicine.
Anderson is a certified physician assistant with Marshall Internal Medicine. He earned a master's degree in medical science from Mountain State University. Anderson comes to Marshall Health with more than 12 years of experience as a physician assistant, most recently working in an internal medicine practice at Montgomery General Hospital in Montgomery, West Virginia. 
Kennedy is also a certified physician assistant with Marshall Internal Medicine. He has a bachelor's degree in psychology from West Virginia University in Morgantown, West Virginia, a bachelor's degree in physician assistant from James Madison University in Harrisonburg, Virginia, and a master's degree in clinical psychology from Appalachian State University in Boone, North Carolina.  He most recently worked with Genesis Healthcare in Teays Valley and has several years of family practice experience.
Mustafa, Anderson, Kennedy and Nitardy are all accepting new patients and referrals. Same-day appointments are available. To schedule an appointment, call Marshall Internal Medicine at 304-691-6910. 
###
---
Media Relations Contact
Michele McKnight
Assistant Director of External Affairs
304-691-1713 
mcknigh4@marshall.edu
---
Receive Marshall Health News
The Marshall Health newsroom offers our latest news releases, which are distributed through a Marshall University electronic mailing list.
To be added to this list, please e-mail your name, job title, e-mail address, media outlet and location to mcknigh4@marshall.edu.
---
Sign Up for Healthy Herd Updates

Sign up for Marshall Health's official blog. This digital resource is full of stories, recipes, health and wellness information to help you on your wellness journey. 
---
News Release Archives