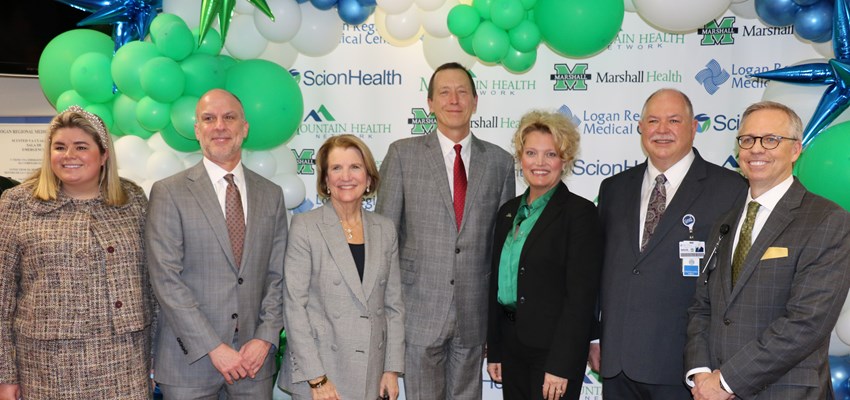 WV health leaders announce collaboration to enhance health care services for residents of Logan and southern WV
1/6/2023
---
LOGAN, W.Va. — Mountain Health Network, Marshall Health, and Logan Regional Medical Center (LMRC), a ScionHealth Community Hospital, today announced a new collaboration aimed at bringing more opportunities for specialty care to southern West Virginia.
Through a new memorandum of understanding (MOU), the organizations will work to establish a process for identifying and implementing opportunities to enhance health care services for the residents of Logan and surrounding areas.
"Mountain Health and Logan Regional Medical Center have held a longstanding mutual respect and common purpose of providing high-quality medical care for patients, close to home," stated Kevin Yingling, R.Ph., M.D., F.A.C.P, president and CEO of Mountain Health Network. "We are honored the Logan and ScionHealth teams have chosen Mountain Health and our academic medical center partners, Marshall Health, to provide access to highly-specialized heart, pediatric, and cancer services so patients and families do not need to travel long distances for advanced medical care."
"Logan Regional has a long history of providing high-quality, compassionate medical care to our friends, families and neighbors in the Logan area," said David Brash, CEO of LRMC. "We have an exceptional team of physicians and caregivers and a wide scope of quality service lines we've established at our hospital. This collaboration makes us part of a network that will improve patients' access to advanced specialty and sub-specialty care both here in Logan, as well as Mountain Health Network and Marshall Health facilities. It also connects us with an academic partner critical to developing graduate medical education and teaching programs."
Earlier this year, the Marshall University Joan C. Edwards School of Medicine and Marshall Health, its faculty practice plan, partnered with LRMC, among others, to launch the nation's first separately accredited rural general surgery residency program. The new five-year program will welcome its first trainees in July 2023. Several Marshall Health specialties, including general surgery and cardiology, have practiced in the Logan area for years.
"Partnerships like this one are how we continue to build the skilled physician workforce West Virginia needs while meeting the health care needs of our communities today," said Beth L. Hammers, M.B.A., CEO of Marshall Health. "Rural training programs are one way we know that we can help meet physician shortages happening in so many rural areas. Marshall Health looks forward to working alongside Mountain Health, LRMC and local physicians to bring more specialty care options to patients in southern West Virginia." 
"We welcome opportunities to improve our hospitals and improve the overall care and health of the communities we serve," said Robert Wampler, President, Community Hospitals at ScionHealth. "This partnership will benefit our hospital and the Logan community by increasing access to specialty services, and it will bring value to our partners as it expands the region's health care network and creates new opportunities for health care practitioners. We are excited for the future of this partnership and Logan Regional and believe this is a 'win' for all parties involved, especially the patients we serve today and tomorrow."
"Regardless of where West Virginians live, they deserve to be able to reach the lifesaving medical services they need and rely on. That's why I have worked hard to support rural health care services across our state, and today's announcement is another step in the right direction," U.S. Senator Shelley Moore Capito said. "It is encouraging to see West Virginia take advantage of the Rural Residency Program – something I have long-supported – to address both the workforce and service availability challenge our communities sometimes face. Today's announcement means more West Virginians receiving care, more West Virginians providing care, and more teamwork between our medical organizations."
"This initiative at Logan Regional Medical Center is a massive step forward for West Virginia health care," said Congresswoman Carol D. Miller. "As a member of the Ways and Means Committee, ensuring health care providers and patients have the resources they need is a top priority for me. We must continue to invest and be strategic with our partnerships to complement specialty and subspecialty care and create access to neurology, endocrinology, infectious disease, and interventional cardiology services — as well as how we deliver rural care. I am fighting every day to make sure my colleagues in Congress understand the challenges rural health care providers face. The partnership between Marshall Health, Mountain Health Network, and ScionHealth will be instrumental in ensuring patients have access to care in rural communities. My focus is to make West Virginia the best place to live, work, and raise a family and I look forward to seeing the Logan Regional Medical Center expand our ability to deliver quality healthcare throughout the state."
The entities will also seek to find ways to make available maternal fetal medicine, neuroscience, telehealth services as well as service lines and care opportunities to support the patient population served by Logan. Next steps include implementing workgroups of experts from each entity that will seek to develop programs that advance cardiology, pediatric and oncology services for patients in the Logan area.
###
About Mountain Health Network
Mountain Health Network is a West Virginia-based not-for-profit health delivery system comprised of Cabell Huntington Hospital, a 303-bed teaching hospital for Marshall University Schools of Medicine, Pharmacy and Nursing; St. Mary's Medical Center, a 393-bed teaching hospital that operates St. Mary's Schools of Nursing, Respiratory Care and Medical Imaging; Hoops Family Children's Hospital, a 72-bed pediatric specialty hospital within Cabell Huntington Hospital; HIMG, an 80-member multi-specialty physician group; and Rivers Health, a 101 acute-bed hospital. Mountain Health is committed to improving the health and well-being of over one million children and adults in 38 counties in West Virginia, southern Ohio, and eastern Kentucky through understanding, respecting, and meeting their needs. For more information, please visit www.mountainhealthnetwork.org
About Marshall Health
Marshall Health is the clinical enterprise of Marshall University and its Joan C. Edwards School of Medicine. Marshall Health brings together a comprehensive care team of 450 providers in 75 areas of primary and specialty care. As part of an academic health system, Marshall Health is committed to improving access to care throughout southern West Virginia, Ohio and Kentucky through advanced technologies and research that benefit its patients and the communities it serves. To learn more, visit marshallhealth.org. 
About Logan Regional Medical Center
A part of ScionHealth®, Logan Regional Medical Center is a 132-bed acute care facility in Logan, West Virginia that is accredited by The Joint Commission (TJC). The hospital offers a full range of health care services, which include: Da Vinci Robotic-Assisted Surgery, the recently expanded Endoscopy Unit, Cardiac Rehab, a 64-slice CT, 24-hr. Emergency Care, Intensive Care Unit, Inpatient and Outpatient Surgery, Laparoscopic Surgery, 3D Mammography, MRI, Nutrition Counseling, Physical Therapy, Radiology, an Inpatient Rehab Center, Respiratory Therapy, a Sleep Disorders Center, Speech Therapy, Respiratory Therapy, Ultrasound, Women's Services and ongoing community education.  The hospital continues to focus on improvements to enhance services and fulfill our mission of making communities healthier.
About ScionHealth
ScionHealth strives to provide high-quality, patient-centered acute and post-acute hospital solutions. The health system is focused on driving innovation, serving its communities, and investing in people and technology to deliver compassionate patient care and excellent health outcomes. Based in Louisville, ScionHealth operates 79 hospital campuses in 25 states – 61 long-term acute care hospitals and 18 community hospital campuses and associated health systems. For more information, please visit www.scionhealth.com.
---
Media Relations Contact
Michele McKnight
Assistant Director of External Affairs
304-691-1713 
mcknigh4@marshall.edu
---
Receive Marshall Health News
The Marshall Health newsroom offers our latest news releases, which are distributed through a Marshall University electronic mailing list.
To be added to this list, please e-mail your name, job title, e-mail address, media outlet and location to mcknigh4@marshall.edu.
---
Sign Up for Healthy Herd Updates

Sign up for Marshall Health's official blog. This digital resource is full of stories, recipes, health and wellness information to help you on your wellness journey. 
---
News Release Archives