School of Medicine faculty member receives national Excellence in Medicine Award
Charles W. Clements II, M.D., recognized for his volunteer efforts
6/13/2016
---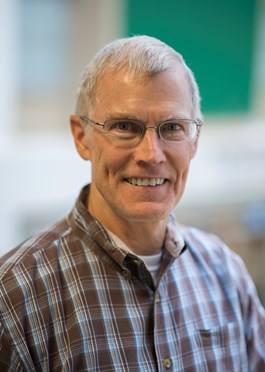 HUNTINGTON, W.Va.—Charles W. Clements II, M.D., a professor in the department of family and community health at the Marshall University Joan C. Edwards School of Medicine, has received one of the American Medical Association Foundation's top honors, the Jack B. McConnell M.D. Award for Excellence in Volunteerism.
Since 2011 Clements has served as the faculty leader for Marshall Medical Outreach, a student-created effort that delivers health care to the homeless and to those at risk of homelessness. The program has been acknowledged locally, regionally and at the state level for its mission.
The volunteer effort, which has expanded into a multidisciplinary outreach that includes School of Pharmacy students and community health care volunteers, provides primary care, immunizations, screenings and ophthalmology services, as well as prescription services for dozens of patients every month.
Clements joined the School of Medicine in 1999 after a 20-plus year career in the U.S. Army. Since then he has consistently been recognized as a determined advocate for those who struggle to navigate the complex health care system.
"Chuck's tireless efforts at medical outreach to our community certainly make him deserving of this national recognition," said Stephen M. Petrany, M.D., professor and chairman of family medicine. "We are very proud of him and the many contributions he has made to our department, our school and our state."
Clements was honored Saturday evening in Chicago at the national AMA Foundation's annual meeting along with Rafael A. Zaragoza, M.D., who also received the award. 

"I believe that being a volunteer is simply being 'available,' " Clements said.  "Three medical students had the idea to take care of the homeless, and I was 'available' to help them implement that idea.  Several others, including School of Medicine staff member Missy Browning and Robert Stanton at the School of Pharmacy, plus many medical students with busy schedules, made themselves 'available.' And the School of Medicine was 'available' to allow us to do this.  That is the key to a successful project like this."
The Jack B. McConnell Award for Excellence in Volunteerism is awarded annually to a physician or physicians for commitment to volunteer medical care provided to those without access to health care in the United States.
In addition to his work with MMO, Clements works with the School of Medicine's Wilderness Medicine Interest Group, Alpha Omega Alpha Medical Honor Society and the Christian Medical/Dental Society.  He also chairs the admissions committee for the School of Medicine.
###
---
Media Relations Contact
Michele McKnight
Assistant Director of External Affairs
304-691-1713 
mcknigh4@marshall.edu
---
Receive Marshall Health News
The Marshall Health newsroom offers our latest news releases, which are distributed through a Marshall University electronic mailing list.
To be added to this list, please e-mail your name, job title, e-mail address, media outlet and location to mcknigh4@marshall.edu.
---
Sign Up for Healthy Herd Updates

Sign up for Marshall Health's official blog. This digital resource is full of stories, recipes, health and wellness information to help you on your wellness journey. 
---
News Release Archives