School of Medicine establishes new Department of Anesthesiology
11/15/2022
---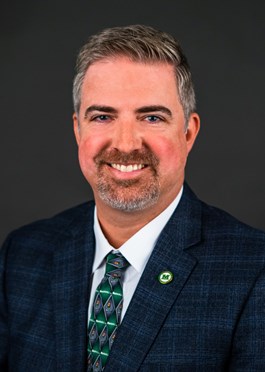 HUNTINGTON, W.Va. – The Marshall University Joan C. Edwards School of Medicine has established a new Department of Anesthesiology to facilitate additional learning opportunities for student education, research and advanced training.
Anesthesiology physicians specialize in the medical management of patients before, during and after surgery, known as perioperative medicine. Anesthesiologists also contribute their expertise in critical care, airway management, operating room management and acute and chronic pain control. There is a national shortage of anesthesiologists across the country, a trend that's hit rural communities and West Virginia particularly hard. According to the Association of American Medical Colleges, there is expected to be a shortage of approximately 12,500 anesthesiologists over the next 10 years.
"Our medical school has benefited from the expertise of many talented local anesthesiologists who have served as volunteer faculty over the years," said Bobby L. Miller, M.D., interim dean of the Joan C. Edwards School of Medicine. "As we look to the future, however, it is evident, that we need to create a more robust mechanism for growth in this area of specialty care in order to address workforce shortages and enable our operating rooms to function at maximum efficiency."
The department will be led by alumnus Jay Shepherd, M.D., who earned his Doctor of Medicine from the Joan C. Edwards School of Medicine in 2007. Shepherd completed his residency at Tulane University in New Orleans, Louisiana, and has served as an anesthesiologist at King's Daughters Medical Center in Ashland, Kentucky, since 2011. He is certified by the American Board of Anesthesiology.
As associate professor and chair of anesthesiology, Shepherd will work alongside anesthesiologists from NorthStar Anesthesia, a national anesthesiology group that supports the school's primary teaching hospitals as part of Mountain Health Network and the Hershel "Woody" Williams VA Medical Center. He will work to build a core faculty to support the department's clinical, educational and research missions and initiate steps to ultimately establish an accredited anesthesiology residency at Marshall.
"The creation of a formalized Department of Anesthesiology is an incredible opportunity to ensure outstanding perioperative care for all patients while enhancing the training environment for future physicians," Shepherd said. "Matching into an anesthesiology residency program has become increasingly competitive. In the coming months and years, we will work to enrich the educational experience for medical students interested in this specialty in order to ultimately help them become more successful in their pursuit of that career path. To be able to lead these efforts at my alma mater is both an honor and a privilege."
The department is housed in the Marshall University Medical Center, located at 1600 Medical Center Drive in Huntington, on the Marshall University Health Sciences campus.
###
About the Joan C. Edwards School of Medicine
The Marshall University Joan C. Edwards School of Medicine is a community-based medical school established in 1977. Located in Huntington, West Virginia, the School of Medicine trains physicians, scientists and other professionals to meet the unique health care needs of rural and underserved communities. Learn more at jcesom.marshall.edu.
Contact: Sheanna M. Spence, Marshall Health/Joan C. Edwards School of Medicine, 304-691-1639
---
Media Relations Contact
Michele McKnight
Assistant Director of External Affairs
304-691-1713 
mcknigh4@marshall.edu
---
Receive Marshall Health News
The Marshall Health newsroom offers our latest news releases, which are distributed through a Marshall University electronic mailing list.
To be added to this list, please e-mail your name, job title, e-mail address, media outlet and location to mcknigh4@marshall.edu.
---
Sign Up for Healthy Herd Updates

Sign up for Marshall Health's official blog. This digital resource is full of stories, recipes, health and wellness information to help you on your wellness journey. 
---
News Release Archives