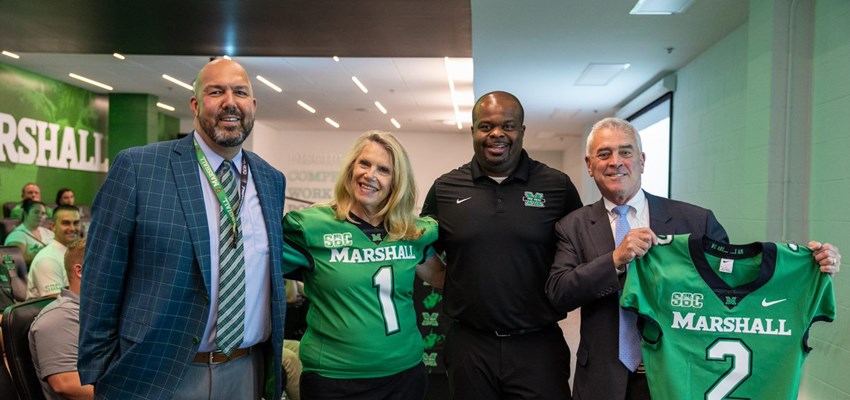 Reps. Miller, Wenstrup tour Marshall University athletics, sports medicine facilities
6/26/2023
---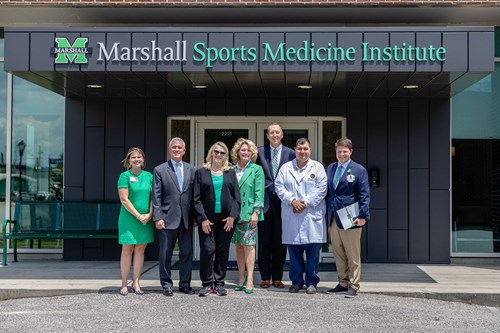 HUNTINGTON, W.Va. – Congresswoman Carol Miller (R-WV) and Congressman Brad Wenstrup, D.P.M. (R-OH) visited Marshall University athletic facilities and the Marshall Sports Medicine Institute (MSMI) today to discuss advanced sports medicine care, graduate medical education and rural health throughout the region.
"Health and well-being should be a top priority for our universities, and I was pleased to see the state-of-the-art facilities that take care of student-athletes as well as the people of southern West Virginia, Ohio, and Kentucky," said Miller. "The collaborative, academic health system between Marshall Health and Mountain Health Network sets our community up for success, and I am grateful for all they continue to do."
"It was a pleasure to visit Marshall University today; I was happy to see and hear firsthand how the university is teaming up with Mountain Health Network to provide enhanced rural health care to Southeast Ohio and the region. This critical partnership to integrate academic medicine will be an invaluable asset to the patients in the care of surgeons, physicians, physical therapists, and other health professionals. I look forward to seeing this partnership progress and the opportunities it brings to strengthen the health care workforce in Appalachia," said Wenstrup.
A collaboration among Marshall Health, Marshall Athletics and Cabell Huntington Hospital, the MSMI is a premier sports medicine facility with the region's only academic sports medicine team. The orthopaedic surgeons, primary care physicians, physical therapists and other health professionals of MSMI treat patients of all ages and provide the same high-quality care for all sport-related injuries and illnesses, whether they occurred during a day of yard work or during a Division I athletic event.
"We have the best-in-class orthopaedics and athletic training services here at Marshall," said Christian Spears, Marshall University athletic director. "Fully integrating and aligning our resources and services to support not just our athletes but our community and region made sense to us all. This partnership is only going to get better as we continue to grow and expand together, which will benefit all those with sports medicine or rehabilitation needs."
While in Huntington, Miller and Wenstrup also participated in a round table discussion on energy.
###
---
Media Relations Contact
Michele McKnight
Assistant Director of External Affairs
304-691-1713 
mcknigh4@marshall.edu
---
Receive Marshall Health News
The Marshall Health newsroom offers our latest news releases, which are distributed through a Marshall University electronic mailing list.
To be added to this list, please e-mail your name, job title, e-mail address, media outlet and location to mcknigh4@marshall.edu.
---
Sign Up for Healthy Herd Updates

Sign up for Marshall Health's official blog. This digital resource is full of stories, recipes, health and wellness information to help you on your wellness journey. 
---
News Release Archives