Renowned Manhattan eye surgeon joins Marshall Health
12/8/2015
---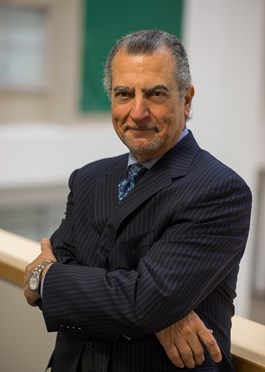 HUNTINGTON, W.Va. - Rene S. Rodriguez-Sains, M.D., FACS, joined the faculty of the Marshall University Joan C. Edwards School of Medicine as an associate professor and member of Marshall Eye Surgeons, a department of Marshall Health, on Dec. 1. Rodriguez-Sains also serves as the chief of ophthalmic plastic and reconstructive surgery within the department of ophthalmology.
He has been in private practice for more than 30 years in New York City as an ophthalmic plastic surgeon, ophthalmologist and ophthalmic oncologist. He specializes in ophthalmic, reconstructive and cosmetic surgery.
"We are most fortunate to have a physician of Dr. Rodriguez-Sains' stature and experience relocate to southern West Virginia," said R. Mark Hatfield, M.D., chair of the ophthalmology department at the School of Medicine. "Dr. Rodriguez-Sains visited and fell in love with the people of West Virginia. I could not be happier that access to care from an individual with such expertise will now be available to our region."
Rodriguez-Sains earned his medical degree from the New York University School of Medicine and his training at the Manhattan Eye, Ear and Throat Hospital, where he was a Heed Ophthalmic Foundation Fellow in ophthalmic oncology and ophthalmic plastic surgery.
Rodriguez-Sains has authored numerous articles and chapter publications, as well as more than 150 national and international lectures.
Rodriguez-Sains is accepting new patients at clinics in both Huntington and Charleston. In Huntington, he will see patients on Mondays and Thursdays at Marshall Eye Surgeons located at 5187 U.S. Route 60, working in conjunction with Drs. Charles Francis, Russell Fry and Vishal Verma, as well as optometrist Belinda Russell, O.D. In Charleston, temporary arrangements have been established for Dr. Rodriguez-Sains to see patients Wednesdays and Fridays at the office of Retina Consultants, 331 Laidley St., Suite 301.
For appointments at either location, please call 304-691-8800.
###
---
Media Relations Contact
Michele McKnight
Assistant Director of External Affairs
304-691-1713 
mcknigh4@marshall.edu
---
Receive Marshall Health News
The Marshall Health newsroom offers our latest news releases, which are distributed through a Marshall University electronic mailing list.
To be added to this list, please e-mail your name, job title, e-mail address, media outlet and location to mcknigh4@marshall.edu.
---
Sign Up for Healthy Herd Updates

Sign up for Marshall Health's official blog. This digital resource is full of stories, recipes, health and wellness information to help you on your wellness journey. 
---
News Release Archives